Eureka Entertainment have announced that Allure, starring Westworld's Evan Rachel Wood, will be released in selected cinemas nationwide (UK & Ireland) from 18 May 2018.
From the renowned artists Carlos and Jason Sanchez who have long been captivating the art world with their large format, provocative photography, Allure stars Evan Rachel Wood (Westworld, The Wrestler, The Ides of March), Julia Sarah Stone (The Killing, Weirdos, Wim Wenders' Every Thing Will Be Fine) and Denis O'Hare (Dallas Buyers Club, Milk).
Plagued by the abuse of her past and the turmoil of failed intimate encounters, Laura (Evan Rachel Wood) struggles to find a lover and a sense of normalcy. Her beacon of hope comes in sixteen year-old Eva (Julia Sarah Stone), a talented pianist disillusioned by the life her mother imposes upon her. An unlikely relationship is formed between the two and Eva becomes an obsession to Laura. In light of Eva's unhappiness, Laura convinces her to runaway to her house and they soon find themselves caught within an intense entanglement. Manipulation, denial and co-dependency fuel what ultimately becomes a fractured dynamic that can only sustain itself for so long.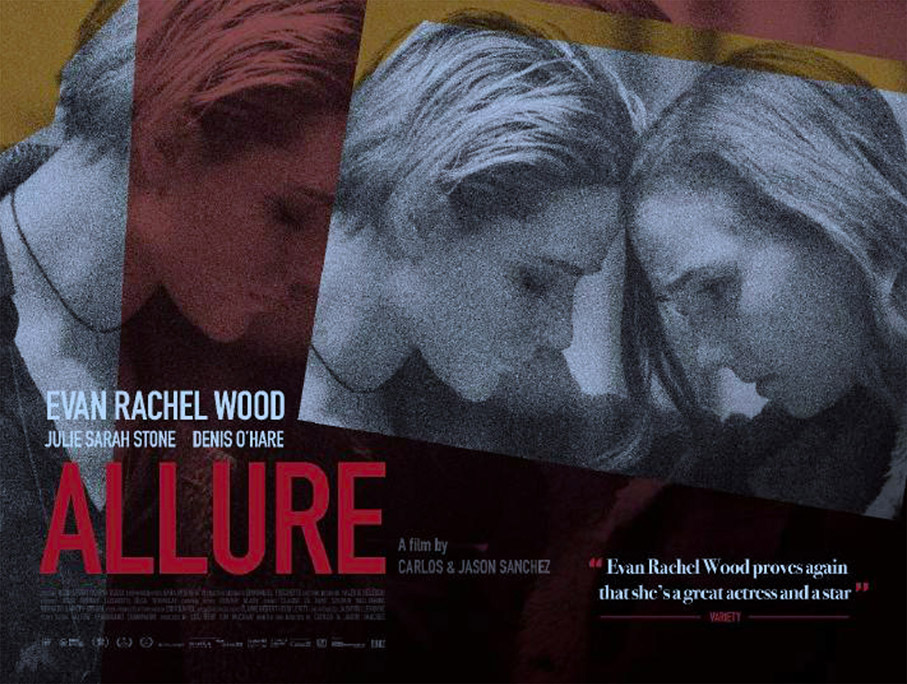 Allue was by IndieWire as "Tightly written and sensitively rendered, the devastating film is propelled by masterful performances, led by a bewitching Wood in the role she was born to play," while RogerEbert.com said of it, "Apart from being a master class in acting, the film is also one of the most haunting and provocative portrayals of abuse in recent memory."
Allure will be released in selected cinemas nationwide (UK & Ireland) from 18 May 2018.