Acclaimed artist and activist Ai Weiwei delivers an astonishing, highly acclaimed, ground-breaking documentary Human Flow, which will be available on DVD, Blu-Ray and Digital Download in April.
Over 65 million people around the world have been forced from their homes to escape famine, climate change and war in the greatest human displacement since World War II.
A film of epic proportions, it really demonstrates the staggering scale of the refugee crisis and its personal impact, using some astonishing drone footage to really illustrate the crisis. The film was captured over the course of an eventful year in 23 countries. Ai Weiwei follows a chain of urgent human stories that stretches across the globe in countries including Afghanistan, Bangladesh, France, Greece, Germany, Iraq, Israel, Italy, Kenya, Mexico, and Turkey. Human Flow is a witness to its subjects and their desperate search for safety, shelter and justice.
From teeming refugee camps to perilous ocean crossings to barbed-wire borders; from dislocation and disillusionment to courage, endurance and adaptation; Human Flow comes at a crucial time when tolerance, compassion and trust are needed more than ever. Ai Weiwei's intuitive work poses one of the questions that will define this century: Will our global society emerge from fear, isolation, and self-interest and choose a path of openness, freedom, and respect for humanity?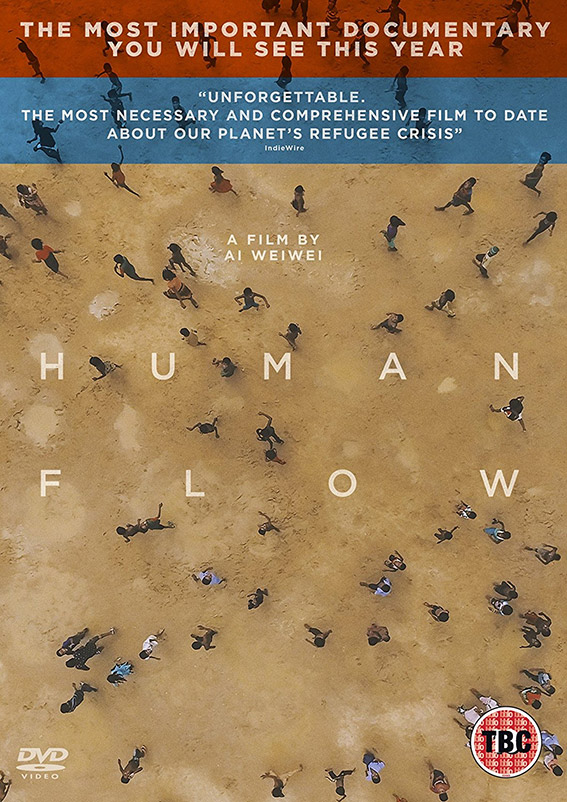 Human Flow will be released on UK Blu-ray, DVD and Digital Download on 2 April 2018 by Altitude Films at the RRP of £17.99 for the Blu-ray and £15.99 for the DVD.
No special features have been detailed.