Eureka Entertainment is to release Stanley Kramer's Inherit the Wind, the powerful and provocative courtroom drama based on the real-life Scopes "Monkey" Trial of 1925, for the first time on Blu-ray in the UK, in a Dual Format (Blu-ray & DVD) edition in May.
Described by Steven Spielberg as "one of our great filmmakers, not just for the art and passion he put on screen, but for the impact he has made on the conscience of the world", the films of producer and director Stanley Kramer (The Defiant Ones, Guess Who's Coming to Dinner) frequently confronted social issues considered too controversial for the major studios. In Inherit the Wind he tackled the creationism vs. evolution debate.
When a teacher in a small Tennessee town is brought to trial for teaching Darwinism, attorney Henry Drummond (Spencer Tracy – Bad Day at Black Rock) faces off against fundamentalist leader Matthew Harrison Brady (Frederic March – Dr. Jekyll and Mr. Hyde) in an explosive battle of beliefs.
Also operating as a searing critique of McCarthyism, Inherit the Wind was nominated for multiple Academy Awards, and is rightfully recognised as one of the most entertaining, and provocative films of its era.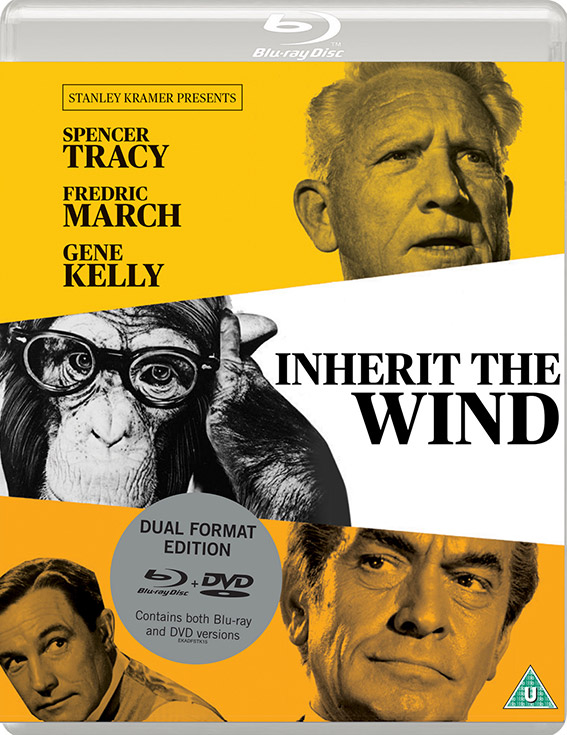 Inherit the Wind will be released on UK dual format (Blu-ray & DVD) on 14 May 2018 from Eureka Entertainment at the RRP of £12.25.
Dual format features:
Limited Edition Collector's Booklet (first pressing only)
1080p presentation of the film on Blu-ray, with a progressive encode on the DVD
Uncompressed LPCM audio (on the Blu-ray)
Optional English subtitles for the deaf and hard-of-hearing
A new video interview with film scholar Neil Sinyard
Original theatrical trailer