Altitude Film Distribution has announced the release of Mary and The Witch's Flower [Meari to majo no hana] in UK and Irish cinemas from 4th May 2018. The magical animated family film adaptation of Mary Stewart's The Little Broomstick, features an outstanding voice cast lead by Ruby Barnhill (The BFG) as Mary, Kate Winslet (Finding Neverland, The Reader) as Madame Mumblechook, Jim Broadbent (Paddington 2) as Doctor Dee alongside Ewen Bremner (Trainspotting, Wonder Woman) as Flanagan and Louis Serkis (Alice Through The Looking Glass, Taboo) as Mary's young companion Will.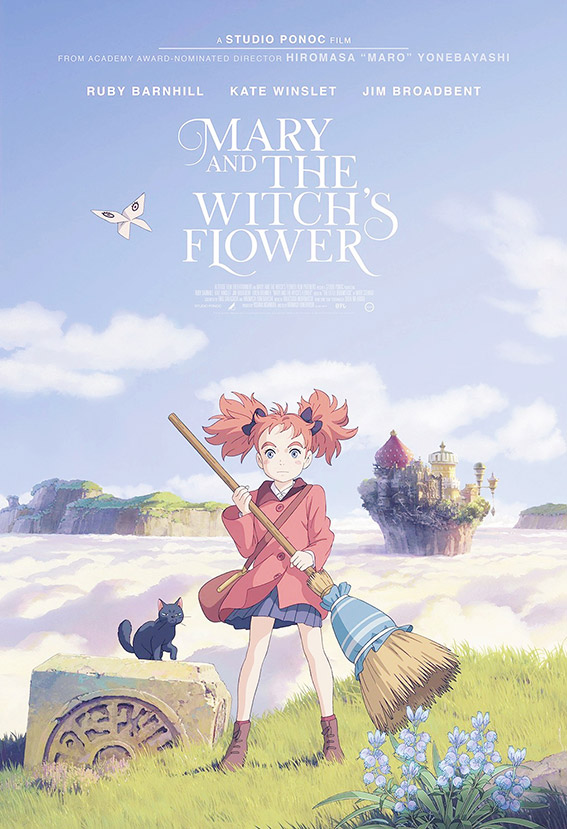 Mary and The Witch's Flower combines an exhilarating tale with the unique richness, art and animation of Studio Ghibli-style storytelling, revealing the exciting and surprising adventure of Mary, an ordinary twelve-year-old girl. Bored and lonely during a summer holiday, Mary follows an odd cat into the nearby woods where she stumbles upon a flower and then a little broomstick. Together the flower and broomstick whisk her above the clouds, far away to Endor College – a school of magic. At Endor, Mary tells a lie that leads to peril, and then a promise, while discovering that all is not as it seems at the school – there are experiments that horrify! Soon she confronts great danger, and a test of her resolve.
Directed by Hiromasa Yonebayashi (Arrietty, When Marnie Was There), Mary and the Witch's Flower is the first feature film produced by Studio Ponoc, founded by Studio Ghibli veterans Yonebayashi and Yoshiaki Nishimura, and the new home of the animation team that crafted Studio Ghibli's acclaimed classics.
You can watch the first two minutes of the film here: