The movie that revolutionised filmmaking in New Zealand and brought about the country's cinematic New Wave, Sleeping Dogs is a tour de force action thriller that launched the Hollywood careers of both its director and lead actor. It manages to be both nail-bitingly tense and a chilling view of New Zealand as a dictatorship and, as such, it resonated with audiences on a worldwide scale. 
Adapted from C.K. Stead's novel Smith's Dream, Sleeping Dogs almost single-handedly kickstarted the New Zealand New Wave, demonstrating that homegrown feature films could resonate with both local and international audiences, and launching the big-screen careers of director Roger Donaldson (No Way Out, Species) and Sam Neill (Jurassic Park, Possession).
Neill – in his first lead role in a feature – plays Smith, a man escaping the break-up of his marriage by finding isolation on an island off the Coromandel Peninsula. As he settles into his new life, the country is experiencing its own turmoil: an oil embargo has led to martial law and civil war, into which Smith reluctantly finds himself increasingly involved.
Co-starring Warren Oates (Bring Me the Head of Alfredo Garcia) as the commander of a US army unit drawn into the conflict, Sleeping Dogs is simultaneously a political thriller, a personal drama and a true landmark in New Zealand cinema.
The success of Sleeping Dogs didn't just springboard the careers of Roger Donaldson and Sam Neill. It also allegedly convinced New Zealand politicians that a publicly funded New Zealand Film Commission should be established to assist the production of homegrown cinema. That Film Commission is still alive and well today, funding New Zealand cinema and encouraging international film crews to use the country's locations and facilities. When you consider just how many major motion pictures are filmed in New Zealand today (The Lord of the Rings is only the tip of the iceberg), well, that means Sleeping Dogs has quite the legacy.
It's not hard to see why. Tightly scripted, full of tension and packed with the kind of action you simply wouldn't expect from such a low budget production, Sleeping Dogs is a masterpiece of the action thriller genre. Sam Neill's excellent performance as a recluse who's unwittingly drawn into a civil war situation is, meanwhile, is a perfect example of the everyman sucked into events beyond his control.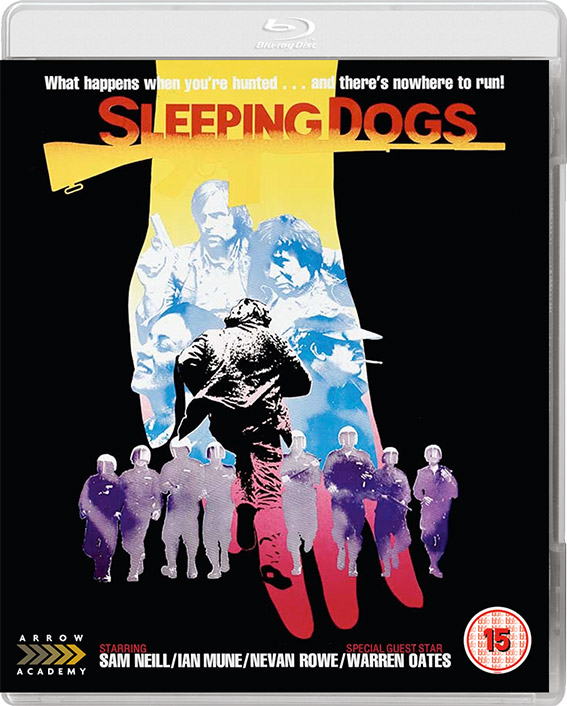 Sleeping Dogs will be released on UK Blu-ray by Arrow Academy on 16 April 2018 at the RRP of £24.99.
Special features:
Commentary by writer-director Roger Donaldson, actor Sam Neill and actor-writer Ian Mune
The Making of Sleeping Dogs, a 65-minute documentary on the film's production featuring interviews with Donaldson, Neill, Mune, Geoff Murphy and others
Theatrical trailer
Reversible sleeve featuring original and newly commissioned artwork by Sean Phillips
First pressing only: Illustrated collector's booklet featuring new writing on the film by Neil Mitchell, a contemporary review by Pauline Kael and the original press book