Third Window films have teamed up again with director Eiji Uchida after the success of Lowlife Love to make Love and Other Cults, a black comedy based on an unbelievable true story dealing with cults, gangs and true love in Japan's countryside.
Born in a small town in Japan, a young girl named Ai (Sairi Ito) is sent to a cult commune by her religious maniac mother and lives there for seven long years. After the cult is exposed by the police, Ai starts a new stage of life, going to a normal school for the first time, but she can't find her place to fit in there. Ai drops out from the school and society, spending her life living with a rock-bottom delinquent family full of gangsters and call girls. In a strange twist of fate she finds herself back in a new and normal life, living with a middle-class family, but her troubled life continues to follow her into more deep and seedy paths. The only person who understands Ai and her troubles is another cast off from society, Ryota (Kenta Suga), who is in love with her. Ryota lives in a shady world of delinquents, though wants to escape and live a normal life. The two teens' purity gets swallowed up by the urban jungle in a big regional city.
Love and Other Cults portrays young people having their lives tossed around by adults; dealing with social issues such as child neglect, teenage gangs and the sex industry against a blackly comic background. Written and directed by Eiji Uchida (Greatful Dead, Lowlife Love), the cast includes some "real local delinquents" which created a unique situation in which the shooting took place under the local police's supervision. The film is produced by Third Window Films' Adam Torel, who also produced Uchida's last film Lowlife Love.
The main cast includes the talented Sairi Ito and Kenta Suga, who both started their careers as child actors and shed their "good kid" personas to play dark characters. Other cast members include the in-demand young actor Kaito Yoshimura (100 Yen Love), Sion Sono regulars Ami Tomite (Antiporno) and Denden (Cold Fish), award-winning actors such as Hanae Kan (Nobody Knows) and Katsuya Maigumua (Ken and Kazu) plus veterans such as Leona Hirota (Whispering of the Gods) and Yoshimasa Kondo (Welcome Back Mr Mcdonald).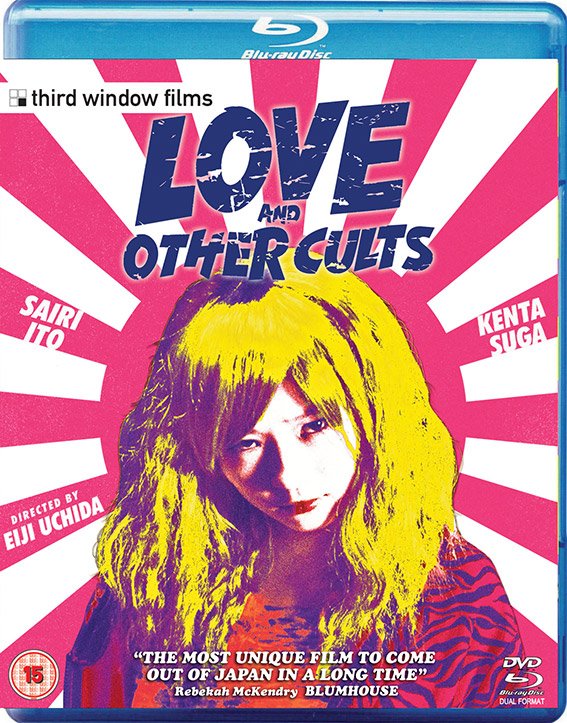 Love and Other Cults will be released on UK dual format (Blu-ray & DVD) on 26 March 2,018 by Third Window Films at a yet to be confirmed RRP.
Special features:
Deleted scenes & alternate endings
Cast interviews
Music video
Theatrical trailer