Studiocanal has announced that a new 60th Anniversary, 4K restoration edition of one of the greatest war films of all time, Ice Cold in Alex (1958), is being released on Blu-ray, DVD and Digital Download in February. Featuring brand new extras, this blistering, action-packed wartime epic will release as part of Studiocanal's Vintage Classics Collection – a showcase of iconic British films, all fully restored and featuring brand new extra content: www.facebook.com/vintageclassicsfilm.
1942: The Libyan war zone, North Africa. After a German invasion a British ambulance crew are forced to evacuate their base but become separated from the rest of their unit. Somehow they must make it to Alexandria, but how? Their only hope is a dilapidated ambulance named "Katy" and an irrational, alcoholic soldier known as Captain Anson. Facing landmines, a Nazi attack, suffocating quicksand and the relentlessly brutal and unforgiving Sahara desert, can Captain Anson face his demons and make the road to hell a journey to freedom?
Winner of the FIPRESCI Prize and nominated for the Golden Bear Award at Berlin International Film Festival, the film was also nominated for 4 BAFTAs including Best British Film, Best Screenplay and Best British Actor for Anthony Quayle on its initial release.
Directed by J. Lee Thompson (Cape Fear, The Guns of the Navarone) with one iconic set piece after the next and with career best performances from John Mills (Goodbye Mr Chips, Great Expectations), Sylvia Syms (The Tamarind Seed, The Queen) and Anthony Quayle (Lawrence of Arabia), Ice Cold in Alex is a suspenseful, invigorating journey which leaves film fans gasping for breath… and a beer.
This new 4K restoration will have a special premiere screening at the Glasgow Film Festival on Thursday 22nd February, Glasgow Film Theatre 1, 12.40pm. The fourteenth annual Glasgow Film Festival will run from 21 February – 4 March 2018, featuring hundreds of films from around the world at venues across the city. For the full programme and tickets visit glasgowfilm.org/festival.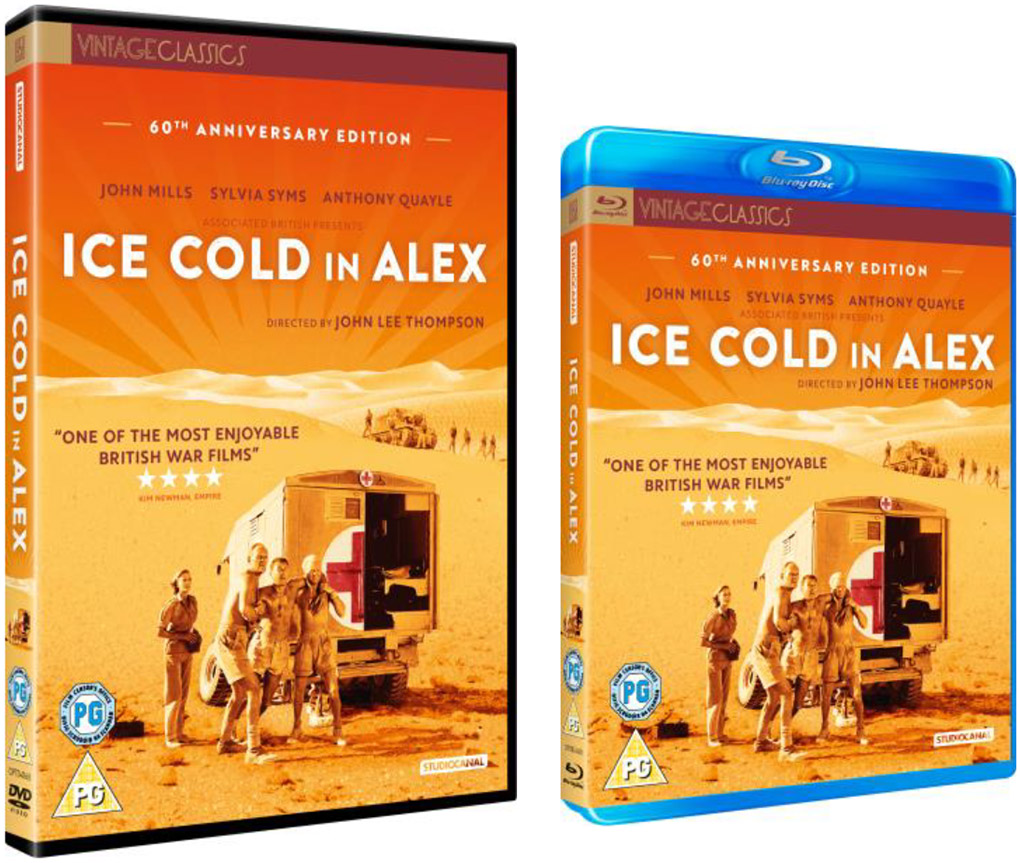 Ice Cold in Alex will be released as a 60th Anniversary edition on Blu-ray, DVD and Digital Download from Studiocanal on 19 February 2018. Retail prices have yet to be confirmed.
Special features:
Steve Chibnall on J. Lee Thompson – NEW interview with Steve Chibnall, Professor of British Cinema, De Montfort University
NEW Interview with Melanie Williams – Reader in Film and Television Studies, University of East Anglia
Interview with Sylvia Sims
Original trailer
Behind-the-scenes stills gallery
Extended clip from A Very British War Movie documentary