Eureka Entertainment are to release House [Hausu], a self-aware, post-modern Japanese fairy tale from one of cinema's great surrealists, as part of the Masters of Cinema range on Blu-ray in February.
An unforgettable mixture of bubblegum teen melodrama and grisly phantasmagoria, Nobuhiko Obayashi's deranged fairy tale House is one of Japanese cinema's wildest supernatural ventures and a truly startling debut feature.
Upset by her widowed father's plans to remarry, Angel sets off with six of her schoolgirl friends in tow for a summer getaway at her aunt's isolated mansion. In this house of dormant secrets, long-held emotional traumas have terrifyingly physical embodiments and the girls must use their individual talents if any are to survive.
A rollercoaster ride without brakes, House is by turns hilarious, sinister, and unexpectedly lyrical, with ceaseless cinematic invention and a satirical, full-blooded approach to the horror genre. A gigantic smash on its original release in Japan, The Masters of Cinema Series is proud to present the film on Blu-ray for the first time in the UK.
We said of the film on its earlier DVD release, also from Masters of Cinema: "The result is a genuine mindfuck of a film, one whose energy, unbridled visual and aural creativity and manic sense of fun really do put it in a class of its own, and make it a prime candidate for cinematic rediscovery of the year."
You can read the rest of that review here.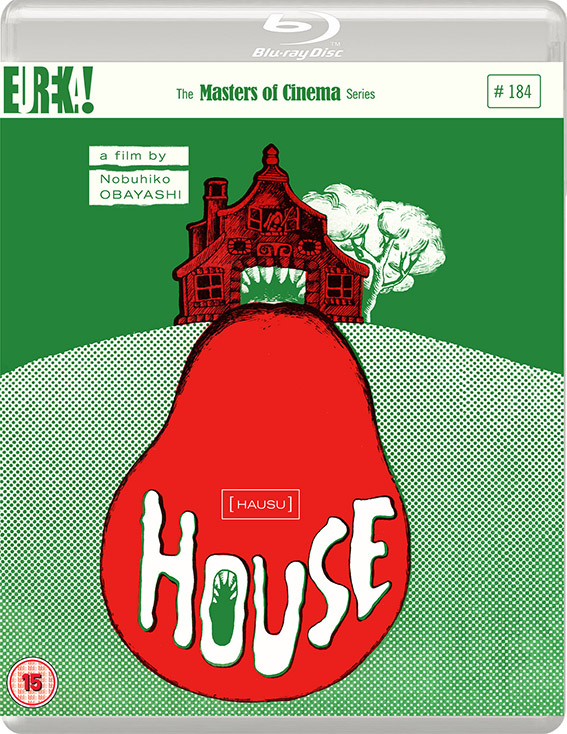 House will make its UK Blu-ray premiere on 12 February 2018 from Eureka as part of the Masters of Cinema series at the RRP of £16.99.
Blu-ray features:
Stunning 1080p presentation from a high-definition digital transfer
Original monaural soundtrack presented as uncompressed LPCM audio
Optional English subtitles
An exclusive video essay by critic and filmmaker David Cairns
90-minute archive of interviews with director Nobuhiko Obayashi, scenarist Chigumi Obayashi, actress Kumiko Oba, and Toho promotional executive Shoho Tomiyama
Original Japanese theatrical trailer
 A collector's booklet featuring an essay by Paul Roquet; poster gallery; and archival imagery