Eureka Entertainment to release New World [Sinsegye], a slick edge-of-your-seat thriller, as part of its new Montage Pictures range in a Dual Format (Blu-ray & DVD) edition in January.
After receiving much acclaim for his screenplays for both Kim Jee-woon's I Saw the Devil and Ryoo Seung-wan's The Unjust, Park Hoon-jung made the transition to directing and with New World, established himself as one of South Korea's finest directors.
When the chairman of South Korea's largest crime syndicate is killed in mysterious circumstances, a complex and violent struggle for power takes place between the three most powerful figures in the Korean underworld. Meanwhile the police, led by section chief Kang (Choi Min-sik – Oldboy), have established operation "New World", in an attempt to weaken the syndicate even further. However, Kang's inside man, Ja-sung (played by The Housemaid's Lee Jung-jae), is nearing breaking point after eight years working undercover. 
Highly praised upon release as one of the finest gangster films for many years, New World is a slick, edge-of-your seat thriller, and is not to be missed.
New World is currently screening as part of the Korean Film Festival: http://po.st/eMOKtz
"Writer-director Hoon-jung Park tells this twisty story of internecine warfare within a Korean corporate crime syndicate with patience, elegance and no small amount of bloodshed." – New York Times

"New World is both less bloody and more thoughtful than most of its genre, the shifting-alliances plot becoming more engrossing as it progresses." – Los Angeles Times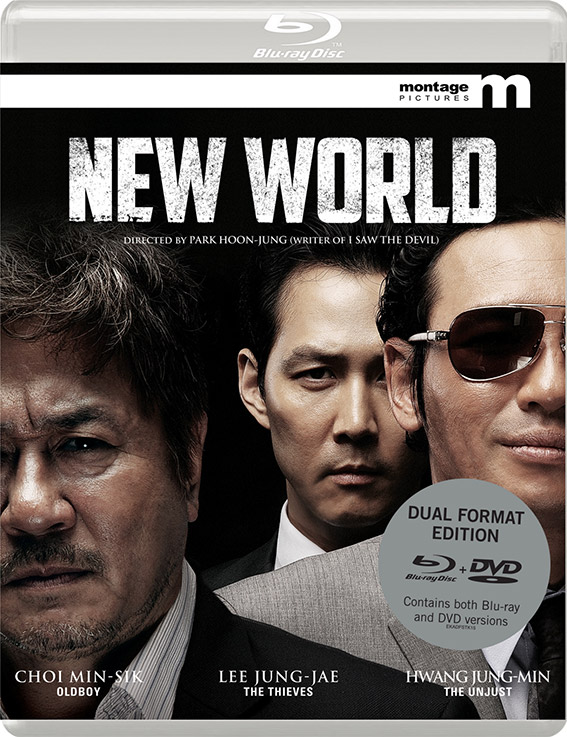 New World will be released on UK dual format (Blu-ray & DVD) on 15 January 2018 by Eureka Entertainment as part of the Montage Pictures range at the RRP of £12.99.
Dual format contents:
Stunning 1080p presentation (On the Blu-ray), with a progressive encode on the DVD
5.1 surround and stereo soundtrack options
Optional English subtitles
Trailer