Several years after the tragic death of their young daughter, a doll maker and his wife welcome a nun and several girls from a shut-down orphanage into their home.  They soon become the target of the doll maker's possessed creation, Annabelle.
Your favorite creepy doll is back when Annabelle: Creation arrives on Blu-ray, DVD and Digital Download in December, from New Line Cinema. Directed by David F. Sandberg (Lights Out), Annabelle: Creation is the follow-up to 2014's hugely successful Annabelle, which scared up nearly $257 million at the worldwide box office during its theatrical run. The new film is once again being produced by Peter Safran and James Wan, who previously partnered on The Conjuring hit movies.

Sandberg directs from a screenplay by Gary Dauberman, who also wrote Annabelle. The film stars Stephanie Sigman (Spectre), Talitha Bateman (The 5th Wave), Lulu Wilson (Ouija 2, Deliver Us from Evil), Philippa Coulthard (After the Dark), Grace Fulton (Badland), Lou Lou Safran (The Choice), Samara Lee (Foxcatcher, The Last Witch Hunter), and Tayler Buck in her feature film debut, with Anthony LaPaglia (Without a Trace) and Miranda Otto (Homeland, The Lord of the Rings Trilogy).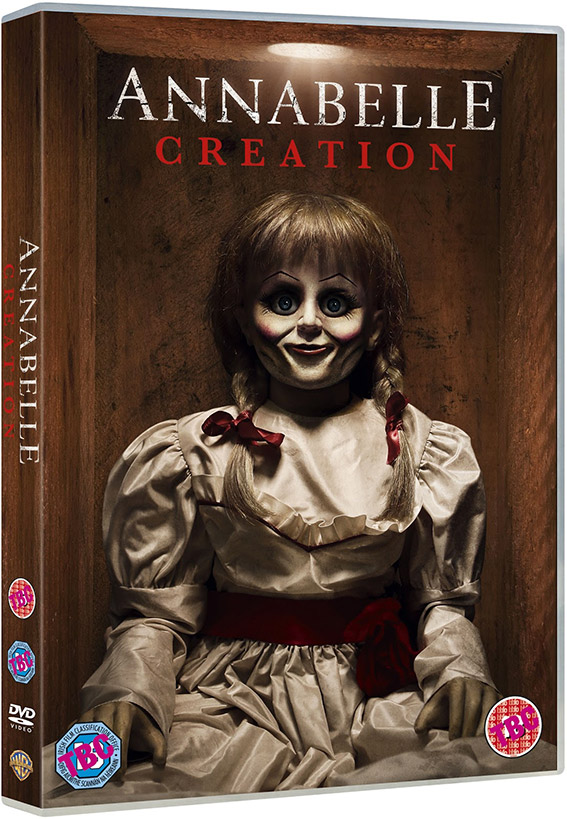 temporary packshot
Annabelle: Creation will be released on Blu-ray and DVD on 4 December 2017 by Warner Brothers at a yet to be confirmed RRP. Both the Blu-ray and DVD release include a digital version of the movie. Annabelle: Creation will also be available from digital retailers.
Blu-ray special features:
The Horror Continues
Horror Shorts: Attic Panic and Coffer
Director's commentary
Directing Annabelle
Deleted scenes featurette
DVD special features:
Deleted scenes featurette