Studiocanal and DMG Entertainment have announced that James Cameron's multi-Oscar winning epic action/sci-fi masterpiece, Terminator 2: Judgement Day will be available to own, fully restored and with brand new extras material, on 4K UHD (includes Blu-Ray), Blu-Ray and DVD in December. The film will also be available on 3D Blu-Ray (includes regular Blu-ray) where the breath-taking new 3D conversion overseen by James Cameron can be experienced in your own home for the first time.
Included in this new version comes T2: Reprogramming The Terminator, a brand-new documentary, that lifts the lid on the iconic and enduringly quotable classic, complete with new and exclusive interviews with Arnold Schwarzenegger, James Cameron, Edward Furlong and many other members of the cast and crew. In addition to this, the Blu-Ray version comes complete with a host of other extras material including trailers, deleted scenes and feature commentaries.
It has been 10 years since the events of The Terminator. Sarah Connor's (Linda Hamilton – The Terminator, Dante's Peak) ordeal is only just beginning as she struggles to protect her son John (Edward Furlong – American History X, Pecker), the future leader of the human resistance against the machines, from a new Terminator (Robert Patrick – Walk the Line, The X Files), sent back in time to eliminate John Connor while he's still a child. Sarah and John don't have to face this terrifying threat alone however. The human resistance have managed to send them an ally, a warrior from the future ordered to protect John Connor at any cost. The battle for tomorrow has begun...
Having originally hit British screens in 1991, complete with groundbreaking special effects, this became Arnold Schwarzenegger's most iconic role to date, as well as one of the most quotable scripts of the decade.
The Restoration
The original 35mm negative was scanned and then restored in 4k at Deluxe L.A., under the supervision of Geoff Burdick from Light storm. The film was calibrated in 4k by Skip, James Cameron's colorist, at Technicolor Hollywood, with a selection of the best 35mm prints from the film's first release. The film was then converted into 3D by Stereo D (Star Wars, Avengers: Age of Ultron, Jurassic World). This work lasted almost a year and was monitored daily by Light storm's teams, to produce a high-end 3D version at the level of the latest 3D releases from U.S. Studios. The 3D version then benefited from a calibration and a specific finish at Technicolor Hollywood, still under the supervision of Skip and James Cameron himself. The restoration project was initiated by Light storm (lei), James Cameron's production company, DMG Entertainment and Studiocanal. James Cameron's team oversaw this 3D conversion from start to finish. This highly experienced and award-winning team had already supervised Titanic's 3D conversion and is currently working on the Avatar sequels.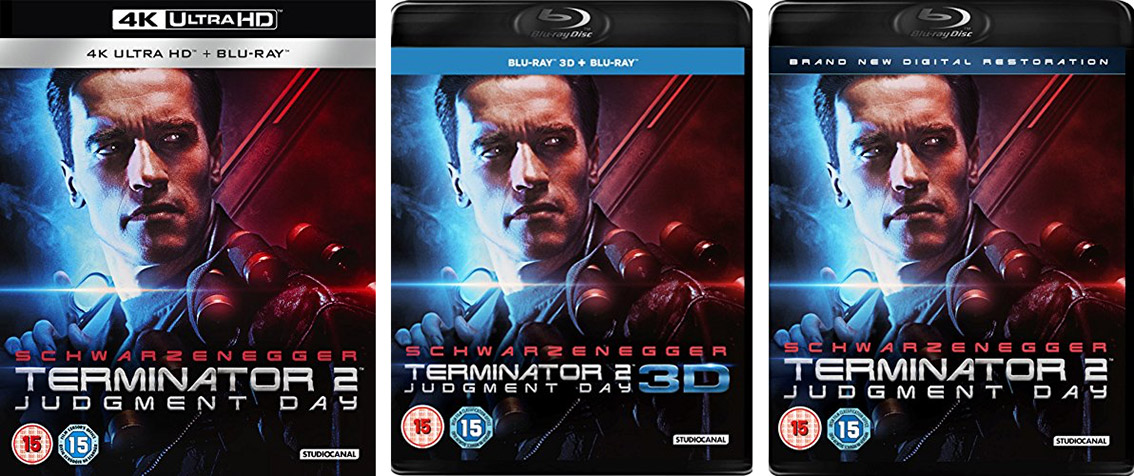 Terminator 2: Judgement Day will be released on UK UHD, Blu-ray, 3D Blu-ray, DVD and Digital Download on 4 December 2017 from Studiocanal and DMG Entertainment at the RRP of £29.99 for the UHD/Blu-ray combo, £29.99 for the 3D/2D Blu-ray pack, £24.99 for the Blu-ray and £19.99 for the DVD.
Blu-ray special features:
NEW: T2: Reprogramming The Terminator – a 55-minute documentary including exclusive interviews with Arnold Schwarzenegger, James Cameron, Edward Furlong and many more)
Feature Commentary with 23 members of Cast and Crew (1993)
Feature Commentary with director James Cameron & co-author William Wisher
The Making of T2 – a 30 minute 1993 (from 2003 edition)
Seamless Branching of the Theatrical version (137 mins approx.), Special Edition version (154 mins approx.) and Extended Special Edition version (156 mins approx.)
Deleted scenes with audio commentary
NEW: T2:3D trailer (2017)
T2 theatrical trailers: this time there are two – Same make new mission and Building the perfect Arnold
DVD Extras:
NEW: T2: Reprogramming The Terminator – a 55-minute documentary including exclusive interviews with Arnold Schwarzenegger, James Cameron, Edward Furlong and many more)