Studiocanal has announced that director Norbert Keil's new horror thriller Replace is coming to UK DVD and Digital Download this month.
Merging the striking visual beauty of The Neon Demon with the modern body horror told from a female perspective of Raw, Replace is a stylishly viral love story about reverse aging starring Rebecca Forsythe (We Are Your Friends) and genre icon Barbara Crampton (Re-animator, You're Next).
Afflicted with a dermatological disease that causes her skin to flake and crumble away, young and beautiful Kira discovers she can replace it with that of other girls. However the treatment is expensive and debilitating but rather than watch her body fall apart, Kira makes a deadly decision. Accompanied by her lover she embarks on a terrifying murder spree in search of a constant supply of new skin donors…
Tackling issues of beauty, gender, aging and identity head on, with lavish art design and a killer giallo infused soundtrack, Replace reaffirms the impressive directorial eye of Norbert Keil whilst delivering a feast for arthouse and genre film fans alike.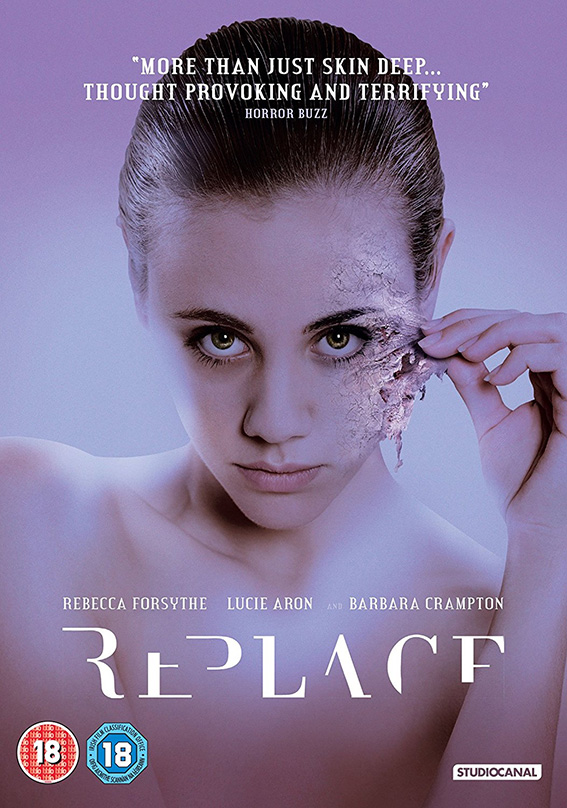 Replace will ve released on UK DVD (no Blu-ray?) and Digital Download on 16 October 2017 at the RRP of £15.99 for the DVD.
No special features have been listed.