This December Arrow Academy presents an exquisite German comedy drama, a delightful Parisian comedy, a timeless Billy Wilder classic, and a box set from Éric Rohmer, featuring pristine prints of some of the French master's unmissable films. The releases come with new and archival extras, exclusive interviews and specially commissioned artwork, meaning a splendid Christmas is guaranteed for discerning film fans.
First up is Amour Fou, a blackly comic and beautifully filmed German comedy drama from Jessica Hausner (writer and director of the award-winning Lourdes), about a melancholy poet in Romantic era Berlin who sets out to a find woman to join him in his bid to end it all. He is, as he puts it, 'not looking for a partner in life, but in death'.
Lost In Paris is an hilarious, whimsical treat about a Canadian woman who goes to Paris after receiving a letter from her aunt asking for help, and ends up involved with a curious and colourful tramp. Acclaimed duo Dominique Abel and Fiona Gordon mix an unexpected romance with extraordinary slapstick and visual comedy that recalls the cinema of Chaplin and Tati.
Arrow Academy will also release The Apartment, starring Jack Lemmon and Shirley MacLaine in Oscar-nominated performances as a couple who start an unlikely romance in late-1950s Manhattan. A note perfect production that went on to win Best Picture at the 1961 Academy Awards, many regard this as Billy Wilder's best work.
Finally in December, the ultimate Christmas gift for Francophile cineastes, The Éric Rohmer Collection box set, featuring some of the best works from this utterly unique and highly-influential auteur, who was a leading light of the French New Wave. The collection of films is released on a highly collectable Limited Edition Blu-ray box set, beautifully packaged and loaded with extras, including and a lavishly illustrated booklet with new writing on the film.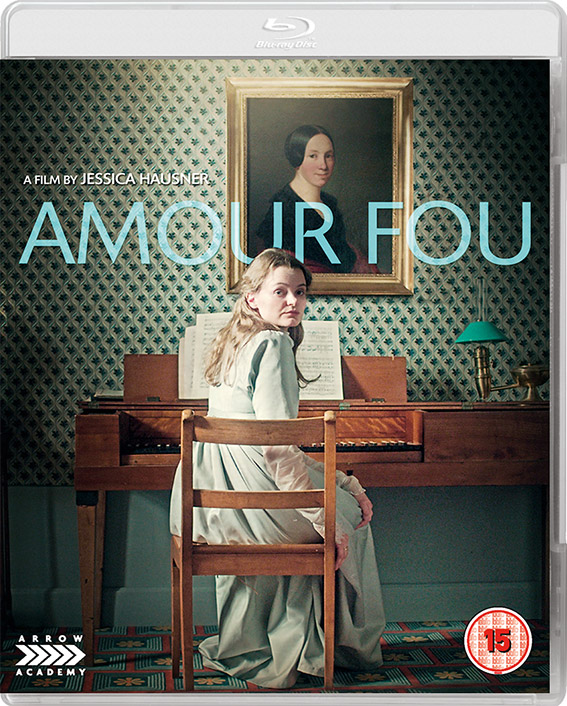 Amour Fou | Blu-ray (£19.99) and DVD (£15.99) | 4 December 2017
Loosely based on the actual double suicide of the celebrated German author Heinrich von Kleist and Henriette Vogel in 1811, this beautiful period film is an austere, yet humorous take on mortality and love. 
Mournful young poet Heinrich (Christian Friedel, The White Ribbon) tries in vain to convince his cousin Marie to join him in a suicide pact. Whilst coming to terms with her refusal, Heinrich meets Henriette (Birte Schnöink), the wife of a business acquaintance. The beautiful young woman is at first mystified by his perplexing offer, but she acquiesces when she is diagnosed with a terminal illness.
Austrian auteur Jessica Hausner deconstructs the traditional tropes of romance and comedy in this wry but profound chamber piece which was lauded by the critics, and is presented here on DVD and Blu-ray with with an array of contextualising extras including an interview and audio commentary with the director.
Blu-ray and DVD Special Edition features:
High Definition (1080p) Blu-ray presentation and Standard Definition DVD presentation 
Original 5.1 surround sound
Optional English subtitles
Audio commentary by director Jessica Hausner 
Interview with Jessica Hausner 
Deleted scenes
Hausner's short film Oida about the musical duo Attwenger 
Theatrical trailer 
Reversible sleeve featuring two artwork options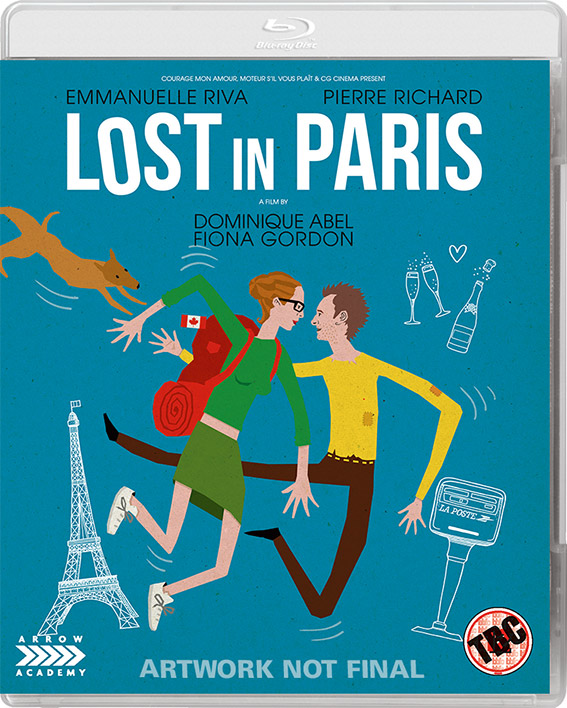 Lost In Paris | Blu-ray (£19.99) and DVD (£15.99) | 4 December 2017
Following their festival smashes Rumba and Fairy, Dominique Abel and Fiona Gordon are back with the whimsical Lost in Paris. Told in their signature vaudeville style, Lost in Paris is a wonderfully composed comedy that evokes the physical humour of Jacques Tati and Buster Keaton.
After receiving a letter from her visually impaired (and ever so slightly senile) Aunt Martha (Emmanuelle Riva, Amour, Three Colours Blue), Fiona takes the trip from Canada to France. Except Martha has disappeared, putting Fiona in the middle of a calamitous hunt for the missing nonagenarian. After a mishap while taking a picture at the Eiffel Tower, Fiona finds herself without any of her belongings, soaking wet and, as the title suggests, Lost in Paris. A chance meeting with a quirky homeless man, Dom, sees a relationship blossom across the city's famous sights and streets.
Playing major festivals across the world, real-life husband and wife co-star, co-direct and co-write this hilarious saunter across France's capital. With some of the funniest sight gags of modern cinema, Lost in Paris brings a heart-warming glow to the screen.
Blu-ray and DVD Special Edition contents:
High Definition (1080p) Blu-ray presentation and Standard Definition DVD presentation 
Original 5.1 surround sound
Optional English subtitles
Abel & Gordon and the Quest for Burlesque – a video essay by Variety film critic Peter Debruge 
Walking on the Wild Side, The Tent – two short films by Abel & Gordon
Theatrical trailer
Reversible sleeve featuring two artwork options
First pressing only (Blu-ray only): Collector's booklet featuring new writing on the film, and a note from the directors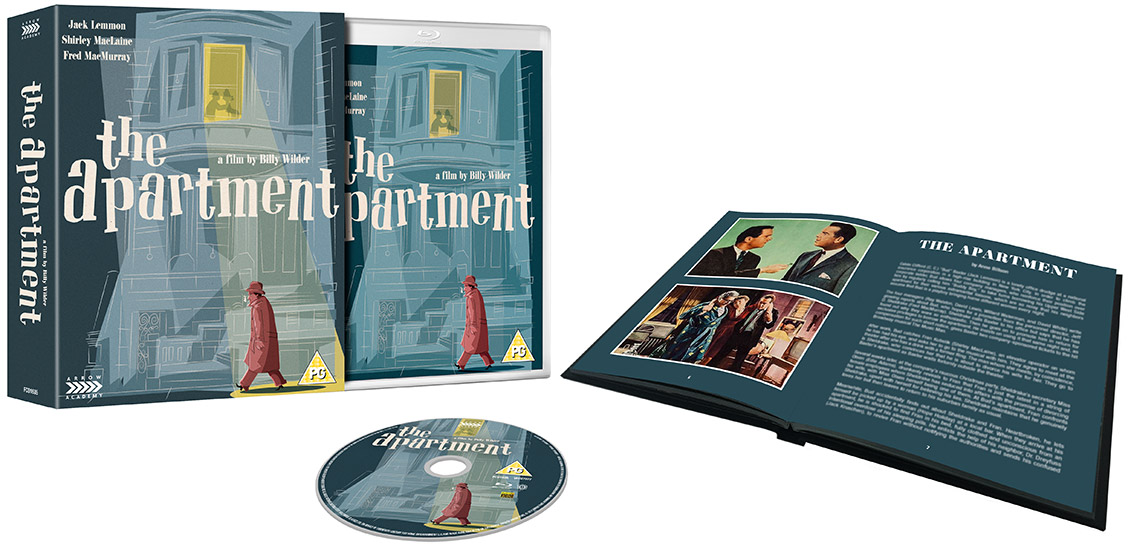 The Apartment | Limited Edition Blu-ray (£29.99) | 11 December 2017
In 1960, following on from the success of their collaboration on Some Like it Hot, director Billy Wilder (Ace in the Hole, Sunset Boulevard) reteamed with actor Jack Lemmon (The Odd Couple, Glengarry Glen Ross) for what many consider the pinnacle of their respective careers: The Apartment.
C.C. "Bud" Baxter (Lemmon) is a lowly Manhattan office drone with a lucrative sideline in renting out his apartment to adulterous company bosses and their mistresses. When Bud enters into a similar arrangement the firm's personnel director, J.D. Sheldrake (Fred MacMurray, Double Indemnity), his career prospects begin to look up… and up. But when he discovers that Sheldrake's mistress is Fran Kubelik (Shirley MacLaine, Irma la Douce), the girl of his dreams, he finds himself forced to choose between his career and the woman he loves…
Winner of five Academy Awards, including Best Picture, The Apartment features a wealth of Hollywood's finest talent – on both sides of the camera – at the top of their game. By turns cynical, heart-warming and hilarious, Wilder's masterpiece now shines like never before in this all-new, 4K-restored edition from Arrow Films.
Limited Edition Blu-ray contents:
Limited Deluxe Edition Blu-ray [3000 copies]
Brand new 4K restoration of the film from the original camera negative
Original uncompressed PCM mono audio 
Optional 5.1 remix in lossless DTS-HD Master Audio
Optional English SDH subtitles for the deaf and hard of hearing
Audio commentary with film producer and historian Bruce Block
New appreciation of the film and select scene commentary by film historian Philip Kemp
The Flawed Couple, a new video essay by filmmaker David Cairns on the collaborations between Billy Wilder and Jack Lemmon
Billy Wilder ABC, an overview by David Cairns on the life and career of the filmmaker, covering his films, collaborators and more
New interview with actress Hope Holiday 
Inside the Apartment, a half-hour "making-of" featurette from 2007 including interviews with Shirley MacLaine, executive producer Walter Mirisch, and others
Magic Time: The Art of Jack Lemmon, an archive profile of the actor from 2007
Original screenplay by Billy Wilder and I.A.L. Diamond (BD-ROM content)
Theatrical trailer
Special collector's packaging featuring newly commissioned artwork by Ignatius Fitzpatrick
Collector's 150-page hardcover book featuring new writing by Neil Sinyard, Kat Ellinger, Travis Crawford and Heather Hyche, generously illustrated with rare stills and behind-the-scenes imagery

The Éric Rohmer Collection | Limited Edition Blu-ray (£109.99) | 11 December 2017
Éric Rohmer enjoyed a remarkable career. Between 1949, when he started work on his first short film, to the release of his final effort, The Romance of Astrea and Celadon, in 2007, Rohmer directed some 28 features, as well as numerous shorts and documentaries, many of them masterpieces.
The Éric Rohmer Collection brings together ten of the best: the complete six-film Comédies et proverbes series; his 1976 adaptation of Heinrich von Kleist's novella, The Marquise of O..., recipient of the Grand Prix at that year's Cannes Film Festival; his outstanding Arthurian tale, Perceval; his delightful portrayal of female friendship, Four Adventures of Reinette and Mirabelle; and, making its UK debut in any format, The Tree, the Mayor and the Mediatheque.
Complemented by numerous bonus features, this limited edition Blu-ray set provides both a welcome opportunity for the newcomer to explore the work of a great director as well as a must-have collection for the die-hard Rohmer fan.
Limited Edition Blu-ray contents:
Limited edition Blu-ray boxed-set (2,000 copies) 
High Definition Blu-ray (1080p) presentations of ten Éric Rohmer features: The Aviator's Wife, A Good Marriage, Pauline at the Beach, Full Moon in Paris, The Green Ray, My Girlfriend's Boyfriend, The Marquise of O..., and exclusive to this collection only: Perceval, Four Adventures of Reinette and Mirabelle and The Tree, the Mayor and the Mediatheque 
Optional English subtitles for the deaf and hard-of-hearing 
Introductions to The Aviator's Wife, A Good Marriage, Pauline at the Beach, Full Moon in Paris and The Green Ray by Éric Rohmer 
Brand-new appreciation of Rohmer by filmmaker and actor Richard Ayoade, recorded exclusively for this release 
Nestor Almendros: Director of Photography, an hour-long French television documentary profile of Perceval, The Marquise of O... and Pauline at the Beach's cinematographer 
Two full-length episodes of the French television series Ciné regards devoted to the making and release of Perceval
Effraction: Tchéky Karyo, an hour-long French television documentary profile of the Full Moon in Paris actor 
On-set report from the making of My Girlfriend's Boyfriend
Archive interview with Bruno Ganz on The Marquise of O... 
Archive interview with André Dussollier on The Aviator's Wife 
Archive interview with Claude-Jean Philippe and Caroline Champetier on Pauline at the Beach 
Archive interview with Arielle Dombasle on Pauline at the Beach 
Archive interview with Pascale Ogier on Full Moon in Paris
Archive interview with Marie Rivière on The Green Ray
Archive interview with Joëlle Miquel on Four Adventures of Reinette and Mirabelle
Audio interview with Rohmer
Changing Landscapes, a 1964 documentary short directed by Rohmer
Trailers for The Aviator's Wife, A Good Marriage, Pauline at the Beach, Full Moon in Paris, The Green Ray and My Girlfriend's Boyfriend
Newly commissioned artwork by Matt Griffin
Limited edition book containing new writing on the film by Jonathan Romney, Geoff Andrew, Philip Lopate, Geoffrey Macnab, David Jenkins, Tara Judah, Sophie Monks Kaufman, Justine Smith, Andy Miller and Brad Stevens