Fasten your seat belts as action-packed thrill ride Baby Driver, which just sped past $175 million at the worldwide box office, accelerates home on digital in October and on 4K Ultra HD/Blu-ray Combo Pack, Blu-ray & DVD from Sony Pictures Home Entertainment in November.
Written and directed by acclaimed filmmaker Edgar Wright (Shaun of the Dead, Hot Fuzz), this fast-paced and furiously stylish heist movie stars Ansel Elgort (The Fault in Our Stars) as a young getaway driver who steers to the beat of his own playlist. With an all-star cast that includes Kevin Spacey (House of Cards), Lily James (Pride and Prejudice and Zombies), Jon Bernthal (The Walking Dead), Eiza González (From Dusk Till Dawn: The Series), with Jon Hamm (Mad Men) and Oscar-winner Jamie Foxx (Best Actor, Ray, 2004), Baby Driver pulls up on 4K Ultra HD Combo Pack, Blu-ray and digital with over two hours of tricked-out bonus features, including over 20 minutes of deleted and extended scenes.
Baby (Ansel Elgort) – a talented, young getaway driver – relies on the beat of his personal soundtrack to be the best in the game. When he meets the girl of his dreams (Lily James), Baby sees a chance to ditch his criminal life and make a clean getaway. But after being coerced into working for a crime boss (Kevin Spacey), he must face the music when a doomed heist threatens his life, love and freedom.
Check out our film review here.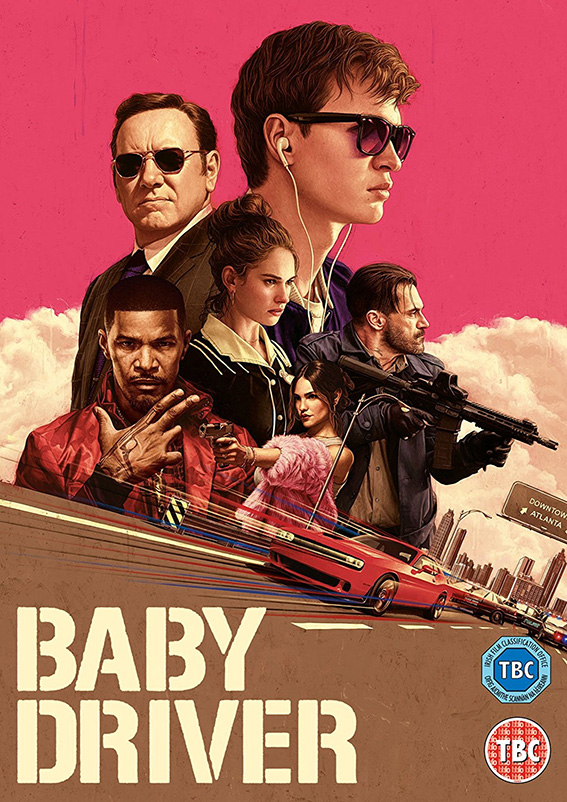 Baby Driver will be available on Digital on 27 October 2017, and on Blu-ray & DVD and as a 4K Ultra HD/Blu-ray Combo Pack from Sony Pictures Home Entertainment on 13th November 2017 at a yet to be confirmed RRP.
Blu-ray and Digital special features:
Extended/Deleted Scenes – 20 minutes of extended scenes and a few moments that were dropped from the final cut
Mozart In A Go-Kart: Ansel Drives – Ride shotgun with star Ansel Elgort as he works with the talented stunt drivers to become the ultimate getaway driver
I Need A Killer Track: The Music – Explore how the film's phenomenal soundtrack dictated both the writing process and all aspects of production on Baby Driver
That's My Baby: Edgar Wright – Follow Edgar Wright's vision of Baby Driver from its inception two decades ago, to its ultimate realization on the big screen
Meet Your New Crew: Doc's Gang – Led by powerhouse Kevin Spacey, the cast assembled to form Doc's gang is perfectly constructed with stars like Jamie Foxx and Jon Hamm as well as up and coming talent like Eiza González and Jon Bernthal. Go behind the scenes to see this talented group at work as they bring these characters to life
Find Something Funky On There: The Choreography – With every frame of Baby Driver set to a specific beat it took precise choreography by the cast, crew and editors to create a cinematic dance like nothing that's been done before. Hear from the choreographer and filmmakers on this groundbreaking process
Devil Behind The Wheel: The Car Chases – From closing down Atlanta's interstates to creating eyepopping maneuvers for a variety of vehicles, witness the amazing craftsmanship and sheer determination that made the film's incredible car chases possible
Animatics – Check out over 35 minutes of the numerous pre-vis animatics developed by Edgar Wright as part of his meticulous preparation
Ansel Elgort Audition – See firsthand the audition that proved without a doubt that Ansel Elgort was the perfect choice for Baby
Annotated Coffee Run Rehearsal – Day one of production involved one of the film's most elaborately choreographed sequences where every movement is carefully crafted. Check out the preliminary rehearsal and see the behind the scenes movement in concert with Ansel Elgort's on camera choreography
Hair, Make Up & Costume Tests – In this stylized montage, witness the transformation of the actors through costume, hair and make-up tests
Mint Royale: "Blue Song" Music Video – This music video directed by Edgar years ago for the band Mint Royale showcases some early inspiration for Baby Driver
Complete Storyboard Gallery – See the elaborate storyboards developed for the film in this gallery featuring storyboards for the entire film
Director Commentary
Filmmaker Commentary with Edgar Wright and Director of Photography Bill Pope
DVD special features:
I Need A Killer Track: The Music
That's My Baby: Edgar Wright
Meet Your New Crew: Doc's Gang
Devil Behind The Wheel: The Car Chases
Mint Royale - "Blue Song" Music Video
Director Commentary
Filmmaker Commentary with Edgar Wright and Director of Photography Bill Pope