Studiocanal has announced that, following its remarkable box office success, The Big Sick – the fresh, funny and insightful hit romantic comedy from Judd Apatow (the producer of Bridesmaids and Trainwreck) is available on DVD, Blu-ray and Digital Download on 20th November 2017.
Based on the real-life courtship between acclaimed stand-up comedian Kumail Nanjiani (Silicon Valley, Portlandia, Central Intelligence) and writing partner Emily V. Gordon (The Meltdown with Jonah and Kumail), The Big Sick tells the story of Pakistan-born aspiring comedian Kumail (Nanjiani), who connects with grad student Emily (Zoe Kazan) after one of his standup sets. However, what they thought would be just a one-night stand blossoms into the real thing, which complicates the life that is expected of Kumail by his traditional Muslim parents.
When Emily is beset with a mystery illness, it forces Kumail to navigate the medical crisis with her parents, Beth and Terry (Holly Hunter and Ray Romano) who he's never met, while dealing with the emotional tug-of-war between his family and his heart.
The Big Sick represents an unexpected journey that began when Emily Gordon heckled Kumail Nanjiani at a stand-up show in Chicago, a fact which Kumail pointed out to Judd Apatow when he shared a stage with the celebrated producer at the 2012 SXSW Festival. The product of following conversations between the two comedians has resulted is one of the funniest, most refreshing romantic comedies of the year.
The film has over performed in cinemas since its theatrical release earlier this year – both in the UK and the US. To date, The Big Sick has taken £1.7million at the box office, achieving numerous five starred reviews from critics and announced as the best reviewed film of the summer on Rotten Tomatoes.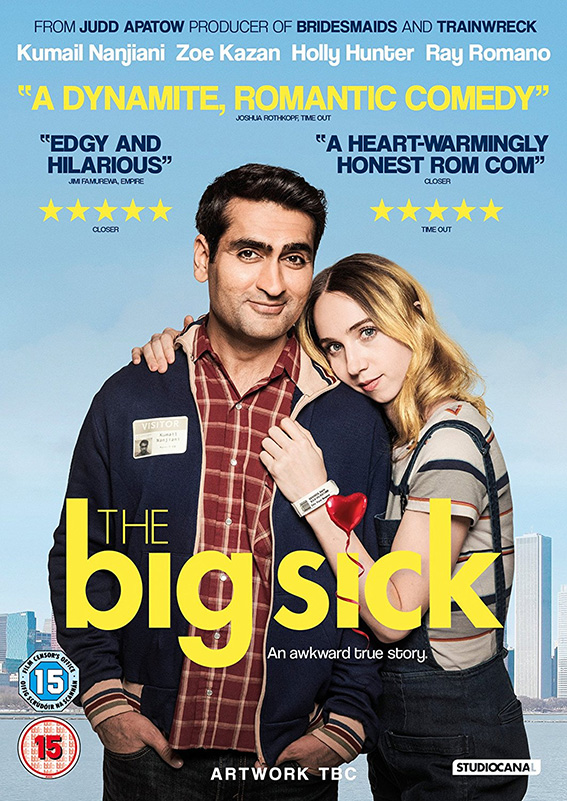 The Big Sick will be released on Digital Download on 17 November 2017 and on DVD and Blu-ray on 20 November 2017 from Studiocanal at a yet to be confirmed RRP.
Blu-ray and DVD special features:
Personal Journey: The Making Of The Big Sick
The Real Story
The Bigger Sick: Stick Around for More Laughs
The Big Sick: The Other Stuff
2017 SXSW Film Festival Panel
Cast & filmmaker commentary
Deleted scenes