The Criterion Collection and Sony Pictures Home Entertainment have confirmed the titles to be released on Blu-ray in the UK in November.
On 13 November, James Stewart, Cary Grant, and the unstoppable Katharine Hepburn star in Hollywood's greatest romantic comedy The Philadelphia Story. 20 November celebrates the swooning and sensual first narrative feature by Donna Deitch, Desert Hearts. 20 November also welcomes you into the kingdom of Terry Gilliam for his solo-directing debut Jabberwocky, a gonzo medieval comedy inspired by the Lewis Carroll's poem.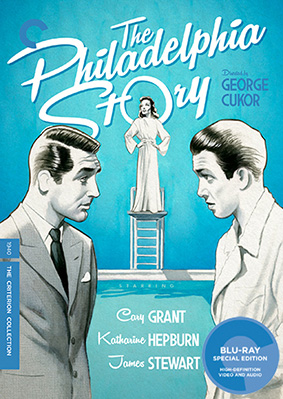 The Philadelphia Story (1940)
With this frivolously witty comedy of manners, Katherine Hepburn (Woman of the Year, Bringing Up Baby, The African Queen) revitalized her  career and cemented her status as the era's most iconic leading lady, thanks in great part to her own shrewd  orchestrations. While  starring in the Philip Barry stage play, The Philadelphia Story, Hepburn snapped up the screen rights, handpicking her friend George Cukor (Adam's Rib) to direct. The intoxicating screenplay by Donald Ogden Stewart (Holiday) pits the formidable Philadelphia socialite Tracy Lord (Hepburn at her most luminous) against various romantic foils, chief among them her charismatic ex-husband (His Girl Friday's Cary Grant), who disrupts her imminent marriage by paying her family estate a visit, accompanied by a tabloid reporter on assignment to cover the wedding of the year (James Stewart, in his only Academy Award–winning performance). A fast-talking screwball comedy as well as a tale of regrets and reconciliation, this convergence of golden-age talent is one of the greatest American films of all time.
Special Edition features:
New 4K digital restoration, with uncompressed monaural soundtrack
Audio commentary from 2005 featuring film scholar Jeanine Basinger
New introduction to actor Katharine Hepburn's role in the development of the film by documentarians David Heeley and Joan Kramer
In Search of Tracy Lord, a new documentary about the origin of the character and her social milieu
Two full episodes of The Dick Cavett Show from 1973, featuring rare interviews with Hepburn, plus an excerpt of a 1978 interview from that show with director George Cukor
Lux Radio Theatre adaptation of the film from 1943, featuring an introduction by filmmaker Cecil B. DeMille
Restoration demonstration
An essay by critic Farran Smith Nehme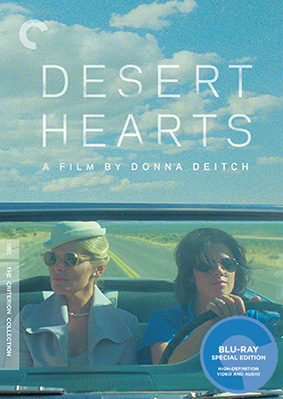 Desert Hearts (1985)
The swooning and sensual first narrative feature by Donna Deitch, Desert Hearts was groundbreaking upon its 1985 release: a love story about two women, made entirely independently, on a self-financed shoestring budget, by a woman. In the 1959-set film, an adaptation of a beloved novel by Jane Rule, straitlaced East Coast professor Vivian Bell (The Color of Money's Helen Shaver) arrives in Reno to file for divorce but winds up catching the eye of someone new, the younger free spirit Cay (Manhunter's Patricia Charbonneau), touching off a slow seduction that unfolds against a breathtaking desert landscape. With undeniable chemistry between its two leads, an evocative jukebox soundtrack, and vivid cinematography by Robert Elswit (Punch-Drunk Love), Desert Hearts beautifully exudes a sense of tender yearning and emotional candour.
Director-Approved Special Edition features:
New, restored 4K digital transfer, supervised by cinematographer Robert Elswit, with uncompressed monaural soundtrack
Audio commentary from 2007 featuring director Donna Deitch
New conversation between Deitch and actor Jane Lynch
New conversation between Deitch, Elswit, and production designer Jeannine Oppewall about the film's visual style
New interviews with actors Helen Shaver and Patricia Charbonneau
Excerpt from Fiction and Other Truths: A Film About Jane Rule, a 1995 documentary about the author of Desert of the Heart, the 1964 novel on which the film is based
An essay by critic B. Ruby Rich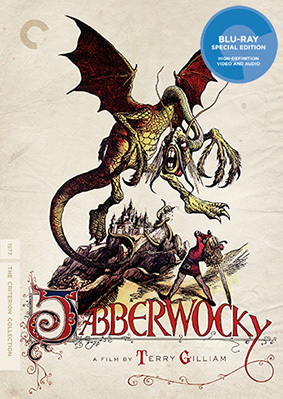 Jabberwocky (1977)
Amid the filth and muck of England in the Dark Ages, a fearsome dragon stalks the land, casting a shadow of terror upon the kingdom of Bruno the Questionable. Who should emerge as the town's only possible saviour but Dennis Cooper (Life of Brian's Michael Palin), an endearingly witless bumpkin who stumbles onto the scene and is flung into the role of brave knight? The first outing as a solo director by Terry Gilliam (Brazil) – inspired by Lewis Carroll's poem Jabberwocky and made on the heels of Gilliam's success as a member of the iconic comedy troupe Monty Python – showcases his delight in comic nonsense, with a cast chock-full of beloved British character actors. A giddy romp through blood and excrement, this fantasy remains one of the filmmaker's most uproarious visions of society run amok.
Director-Approved Special Edition features:
New 4K digital transfer from a restoration by the BFI National Archive and The Film Foundation, approved by director Terry Gilliam
5.1 surround mix, supervised by Gilliam and presented in DTS-HD Master Audio
Audio commentary from 2001 featuring Gilliam and actor Michael Palin
New documentary on the making of the film, featuring Gilliam, producer Sandy Lieberson, Palin, and actor Annette Badland
New interview with Valerie Charlton, designer of the Jabberwock, featuring her collection of rare behindthe- scenes photographs
Selection of Gilliam's storyboards and sketches
An essay by critic Scott Tobias