Murderers. Drug addicts. Thieves. Gang members. Armed robbers. Violent criminals...California's notorious Folsom Prison – immortalised by Johnny Cash – houses some of the toughest inmates in the US prison system. But it has also become the site of a groundbreaking experiment that offers its prisoners a sense of hope – and helps those from the outside world make sense of their lives too.
This unique four-day group therapy session is charted in The Work, a remarkable film that looks in on prisoners and civilians going through an intense session that is as mentally tough as Folsom is physically brutal. And as vicious and merciless as this world is, the sessions offer prisoners and those from outside the walls a chance at rehabilitation, redemption and saviour.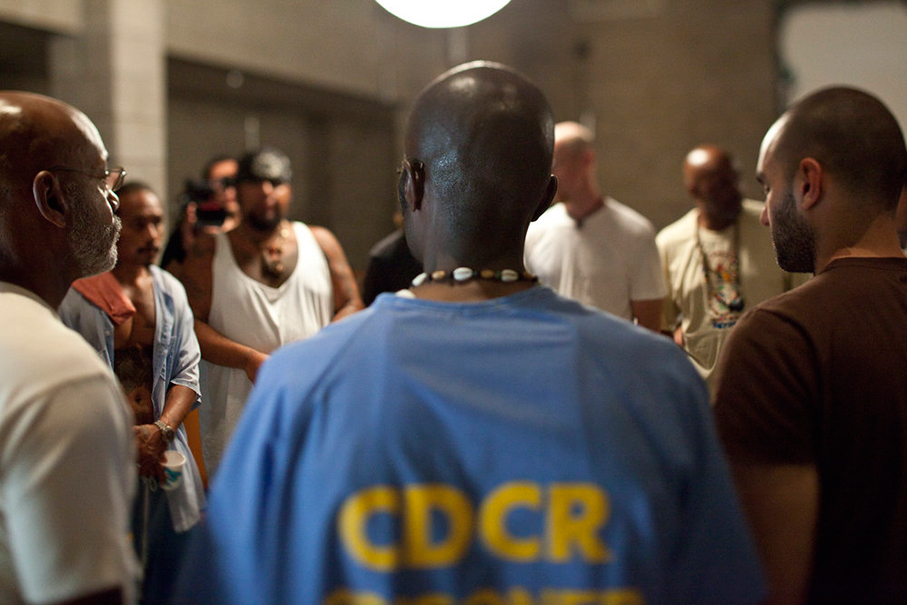 Set inside a single room in Folsom Prison, The Work follows three men from outside as they participate in a four-day group therapy retreat with level-four convicts. Over the four days, each man in the room takes his turn at delving deep into his past. The raw and revealing process that the incarcerated men undertake exceeds the expectations of the free men, ripping them out of their comfort zones and forcing them to see themselves and the prisoners in unexpected ways. The Work offers a powerful and rare look past the cinder block walls, steel doors and the dehumanising tropes in our culture to reveal a movement of change and redemption that transcends what we think of as rehabilitation.
Wowing audiences at this year's Sheffield Doc/Fest, where it made its UK premiere, The Work – directed by Jairus McLeary and co-directed by Gethin Aldous – is an unforgettable documentary that will leave viewers moved and shaken in equal measure. Purely observational, McLeary goes inside Folsom Prison to document a four-day group therapy session between inmates and men from the outside. The result is a raw an intimate account of redemption and rehabilitation.
"Intimate, intensely emotional...powerfully underlines the ability of documentary to transport the viewer to places they would otherwise never encounter." – Screen Daily

"The Work is a remarkable piece of reportage." – Hollywood Reporter
The Work will be released in UK cinemas on 8 September 2017 by Doogwoof.