Filmmaker James Scott has enjoyed a diverse career, ranging from early experimental art documentaries on key 1960s figures such as David Hockney, Richard Hamilton, Claes Oldenburg and R B Kitaj, to work with the radical Berwick Street Collective, independent features and the Oscar-winning 1982 short A Shocking Accident.
Every Picture Tells a Story, released by the BFI next month, brings together seven newly-remastered films in a long-overdue DVD collection of this talented filmmaker's work. The 2-disc set includes audio Q&As with James Scott and an illustrated booklet.
The highlight of the collection is Every Picture Tells a Story (1984), Scott's sensitive, exploratory portrait of his father, the celebrated painter William Scott, covering his early years in working-class Scotland and Northern Ireland of the 1930s and his entry into the art world.
Also featured are James Scott's art films, which include such diverse artists as Stuart Brisley, Jamie Reid and Hannah Wilke.
The Films:
Disc One
Every Picture Tells A Story (James Scott, 1984, 80 mins)
The Great Ice Cream Robbery – Left Screen (James Scott, 1971, 34 mins)
Disc Two
Love's Presentation (James Scott, 1966, 27 mins)
R B Kitaj (James Scott, 1967, 19 mins)
Richard Hamilton (James Scott, 1969, 24 mins)
The Great Ice Cream Robbery – Right Screen (James Scott, 1971, 33 mins)
Chance, History, Art… (James Scott, 1980, 46 mins)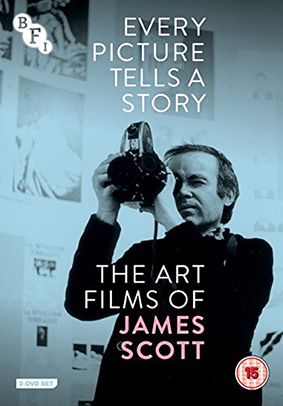 Every Picture Tells a Story: The Art Films of James Scott will be released as a 2-DVD set on 28 August 2017 by the BFI at the RRP of £22.99.
Special features:
Intro and Q&A for Every Picture Tells a Story (audio) (2013, 30 mins): James Scott in conversation with Nigel Algar and screenwriter Shane Connaughton
Q&A for The Great Ice Cream Robbery (audio) (2013, 25 mins): the director in conversation with Simon Field
The two films comprising The Great Ice Cream Robbery are presented on separate discs to enable gallery-style dual-screen viewing
Illustrated booklet with writing by Richard White, new essays by James Scott, John Wyver and William Fowler, and full film credits
DVD launch at BFI Southbank – 16 August
The Every Picture Tells a Story DVD will be launched with a special screening and Q&A with James Scott at BFI Southbank (NFT3) on Wednesday 16 August at 20:40. Tickets are on sale now: www.bfi.org.uk/whatson