Eureka Entertainment have announced the theatrical release of Kills on Wheels [Tiszta szívvel], a highly original, darkly comedic and infectious buddy-movie about a wheelchair-using gang of assassins, in selected cinemas nationwide (UK & Ireland) from 15 September 2017.
Zoli and Barba are inseparable friends and outcasts. Both physically disabled, they live in a rehabilitation facility where life seems rather aimless. Zoli needs life-saving surgery but doesn't want his absent father to pay out of guilt and pity. Enter Rupasov, a mysterious wheelchair-using man newly released from prison. He quickly adopts the two friends and offers them a chance to make some extra money by helping him in his work. That work, however, is murder. Rupasov is a hitman.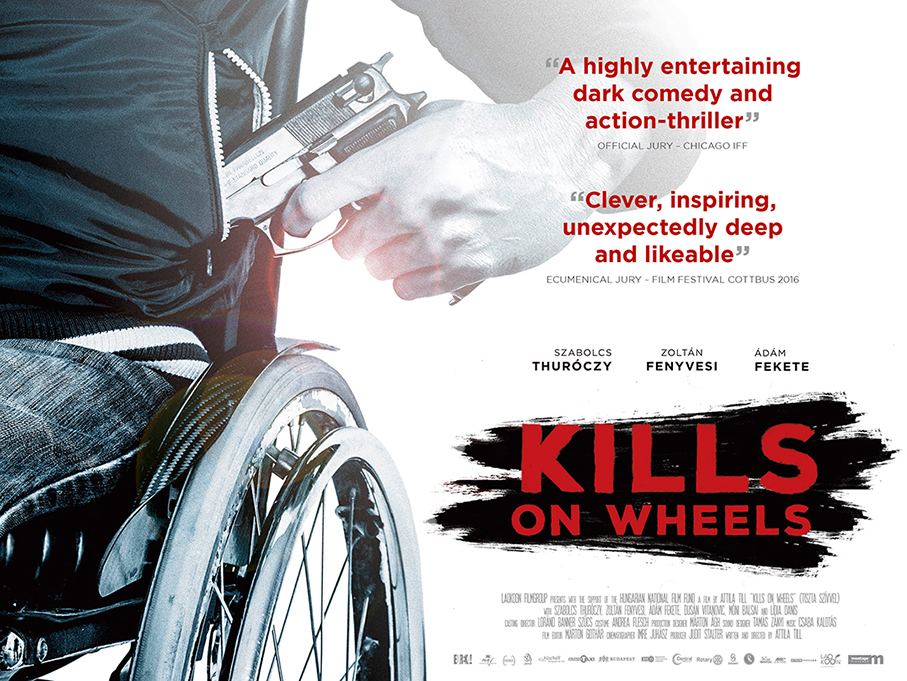 In this inventive, action-packed coming-of-age story of friendship, loyalty and revenge, Hungarian director Attila Till skilfully blends reality with fantasy as he offers a gentle probe into the lives of protagonists living on the edge of society and desirous of things which non-disabled people take for granted. Inspired to make his film from his own experiences as a volunteer for disabled people, Attila Till explains his motivation: "It was crucial to me to make a movie about disabled people where they finally aren't played by actors but get the opportunity to act themselves and be the real heroes."
"A film that initially offers guilty pleasure thrills ultimately reveals its softer, more sentimental side. Kills On Wheels manages to cast aside the straitjacket of political correctness and treat disability issues with humour, understanding and inventiveness. It is a film that sends the viewer out with a warm hug of an ending." – Allan Hunter, Screen Daily

"Uproariously clever urban fable, one that doesn't sanctify or belittle disabled people, but rather shines new light on that invisible population by inviting them to play the most visible of movie archetypes: assassins." – Indiewire
Kills on Wheels will be released in selected cinemas nationwide (UK & Ireland) from 15 September 2017.