Eureka Entertainment are to release Suntan, an unpredictable psychological drama, full of suspense and humour, set on a hedonistic Greek Island, as part of its new Montage Pictures range in a Dual Format (Blu-ray & DVD) edition in September.
Suntan is a coming of 'middle-age' film, from Greek filmmaker Argyris Papadimitropoulos, that celebrates the beauty and strength of the youthful body, while simultaneously embracing its inevitable decay.
For middle-aged Kostis (Makis Papadimitriou), life has passed him by. As the newly appointed doctor of a tiny island, Kostis spends a dreary winter alone. By the time summer arrives, though, the island has turned into a thriving, wild vacation spot with nude beaches and crazy parties. When Kostis meets the beautiful and flirty Anna (Elli Tringou), he falls hard for her and goes out of his way to impress her. Before long, Kostis is spending nearly all of his time getting drunk, partying hard, and even making out with Anna. What starts as a rediscovery with his lost-long youth, though, slowly turns into an obsession as Kostis is willing to do whatever it takes to keep his Anna.
The eternal Greek summer provides the perfect background for this extravagance of craving and everything that goes with it: flirting, casual sex, drugs, alcohol and pushing the boundaries to see how far your body can go.
"Suntan is tremendously acted, fiercely and instantly absorbing, a tragicomic tale of male midlife breakdown" – The Guardian

"Suntan isn't just a painful parable of male middle-aged lust, but a chilling exposé of privilege and deprivation: at heart, a story of class relations" – Film Comment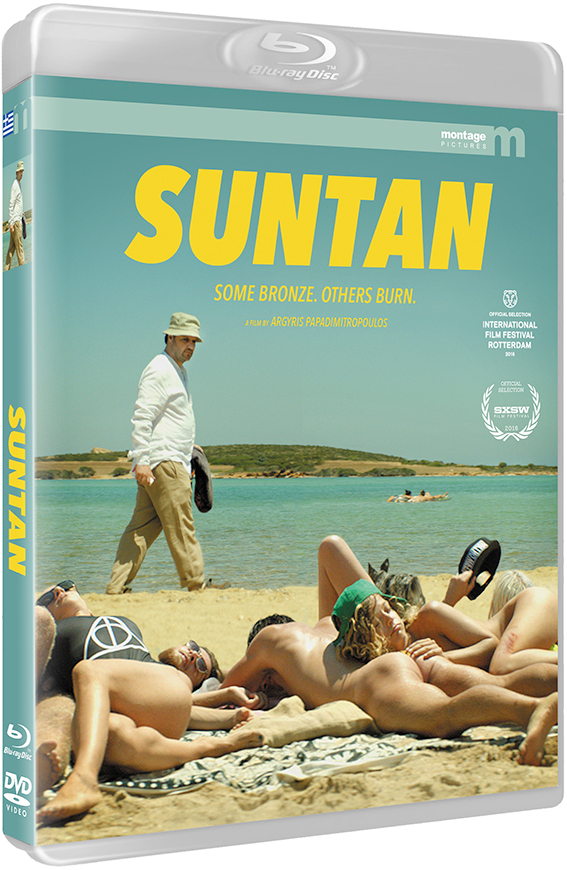 Suntan will be released in the UK as a dual format edition (Blu-ray & DVD) on 4 September 2017 by Eureka Entertainment as the first film under the new Montage Pictures banner at the RRP of just £14.99.
Dual format features:
Stunning 1080p presentation (on the Blu-ray), with a progressive encode on the DVD
5.1 Surround and Stereo soundtrack options
Optional English subtitles
An interview with director Argyris Papadimitropoulos filmed exclusively for this release
A behind the scenes documentary chronicling the films production
Deleted scenes