Studiocanal has announced that Mindhorn, the highly acclaimed British comedy co-created by Julian Barratt (The Mighty Boosh) and Simon Farnaby (Bunny & The Bull, Horrible Histories), will be released on digital download in August and on DVD and Blu-Ray in September.
Washed-up Richard Thorncroft (Julian Barratt) peaked with hit 1980s detective show Mindhorn, playing the titular Isle of Man sleuth with a robotic eye that allowed him to literally "see the truth". Decades later, when a deranged Manx criminal demands Mindhorn as his nemesis, Thorncroft returns to the scene of his greatest triumphs for one last chance to reignite his glory days, professional credibility and even romance with former co-star/paramour Patricia Deville (Essie Davis).
Directed by Sean Foley and co-written by Julian Barratt and Simon Farnaby, Mindhorn was a critical hit on its. Joining Julian Barratt as Richard Thorncroft / Mindhorn and Simon Farnaby as Clive Parnevik are a stellar line-up of British acting talent, including Essie Davis (The Babadook, Game of Thrones) Russell Tovey (Pride, Being Human), Andrea Riseborough (Bloodline, Birdman) Jessica Barden (Far From The Madding Crowd), Harriet Walter (The Crown, Star Wars: The Force Awakens) and Steve Coogan (Alan Partridge, Philomena).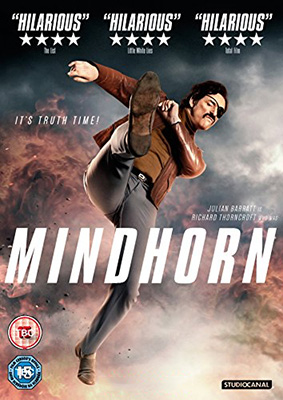 Mindhorn will be released on EST digital download on 28 August 2017 and Bluy-ray and DVD on 4 September 2017 by Studiocanal at at yet to be confirmed RRP.
Special features:
Commentary by Julian Barratt and Simon Farnaby
Mindhorn featurette
Film shout outs
Thieves in the Cinema ad
The Mind of Mindhorn
Richard Thorncroft interview
Clive Parnevik stunt masterclass
Music Video: You Can't Handcuff The Wind by Richard Thorncroft