Classic 1980s science-fiction adventure Dreamscape, starring screen favourites Dennis Quaid (The Day After Tomorrow) and Kate Capshaw (Indiana Jones and the Temple of Doom), makes its UK Blu-ray debut in July courtesy of Second Sight.
This action-packed science-fiction thriller was directed by Joseph Ruben (Sleeping with the Enemy) and also stars Max von Sydow (The Exorcist), and Christopher Plummer (The Sound of Music). The film arrives in a brand new restored version from a 2K scan, packed with a host of brand new special features. Alongside the Blu-ray, Dreamscape will also be available on DVD, on demand and download.
Young psychic Alex Gardner (Quaid) is coerced into joining a dream research project in which those with his abilities are trained to enter and affect the dreams of others. What begins as an experiment in remedying nightmares turns into something far more sinister, when a corrupt government official seizes control of the project. Can Alex can stop his diabolical plan?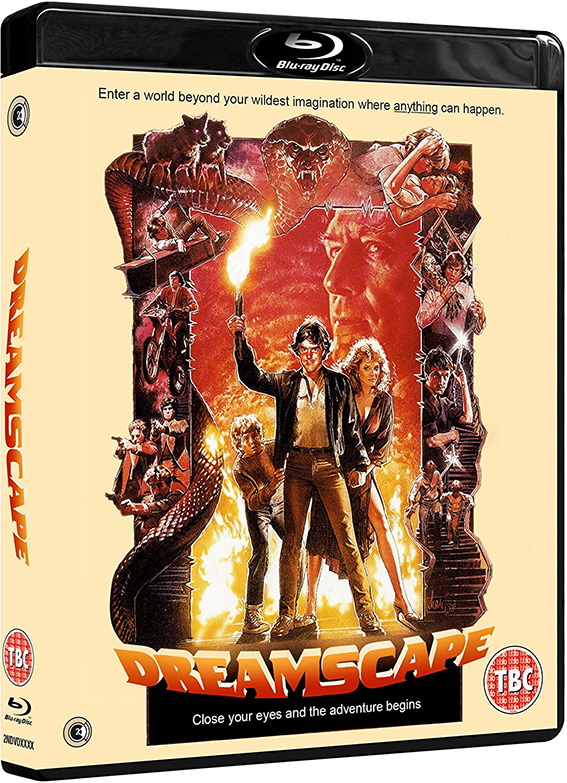 Dreamscape will be released on UK Blu-ray, DVD, On-Demand and Download on 31 July 2017 by Second Sight at the RRP of £19.99 for the Blu-ray and £15.99 for the DVD.
Blu-ray and DVD features:
Restored version of new 2K scan
DTS-HD Master Audio / PCM Uncompressed Stereo soundtracks on the Blu-ray
The Actor's Journey – interview with Dennis Quaid
Dreamscapes and Dreammakers – retrospective documentary including interviews with director Joseph Ruben, co-writer David Loughery, actor David Patrick Kelly and other members of the special effects team
Nightmares and Dreamsnakes – looking back at the Snakeman with Craig Reardon, David Patrick Kelley and others
In-depth conversation between producer Bruce Cohn Curtis and co-writer/producer Chuck Russell
Audio commentary with Bruce Cohn Curtis, David Loughery and special makeup artist Craig Reardon
Snakeman test footage
Stills gallery
Theatrical trailer
We don't have the UK trailer, but here's one for the American Scream Factory Blu-ray release: