This September Arrow Academy presents a superlative Jean-Luc Godard box set, with five innovative film collaborations from the legendary French director, a Rutger Hauer arthouse classic, and a unique, unmissable sci-fi horror. The releases feature new and archival extras, exclusive interviews and pristine prints, ensuring late-summer satisfaction for film fanatics.
First up is Jean-Luc Godard + Jean-Pierre Gorin: Five Films (1968-1971), a collection of collaborations between the French director and film writer Gorin, long unavailable and debuting on Blu-ray for the first time. A revolutionary attempt to meld political ideas into cinema and shake up the art form, the films include examinations of working class struggles, political manifestos and law and order, and are as vital today as when they were first released.
Rutger Hauer (Blade Runner, Soldier of Orange) stars in September's next release, the 1988 European classic Legend of the Holy Drinker, from director Ermanno Olmi (Tree of Wooden Clogs). Based on the classic novel by Joseph Roth, this elegiac story of the travails of an alcoholic is presented in a Dual Format release, and includes a brand-new 4K restoration produced exclusively by Arrow.
Finally in September is celebrated filmmaker Amat Escalante's award-winning The Untamed, which Screen called "ferociously intelligent", a mix of Lovecraftian science fiction and social allegory about a family torn apart by strange goings-on in a cabin in the woods. The award-winning film is released on both DVD and Blu-ray, with a reversible sleeve, and a collector's booklet with the first pressing.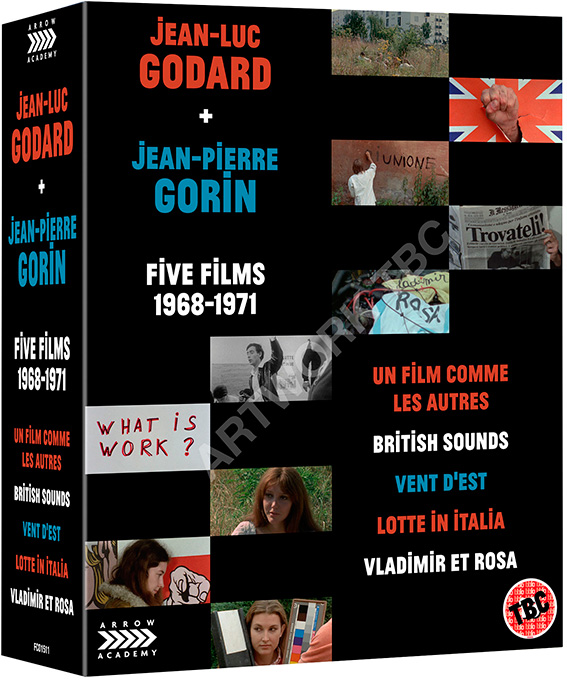 Jean-Luc Godard + Jean-Pierre Gorin: Five Films (1968-1971) | Dual Format Blu-ray + DVD | 18 September 2017 | £59.99
After finishing his film Weekend in 1967, Jean-Luc Godard shifted gears to embark on engaging more directly with the radical political movements of the era, and thus create a new kind of film, or, as he eventually put it: "new ideas distributed in a new way." This new method in part involved collaborating with the precocious young critic and journalist, Jean-Pierre Gorin. Both as a two-person unit, and as part of the loose collective known as the Groupe Dziga Vertov (named after the early 20th-century Russian filmmaker and theoretician), Godard and Gorin would realize "some political possibilities for the practice of cinema" and craft new frameworks for investigating the relationships between image and sound, spectator and subject, cinema and society.
Included here are five films, all originally shot in 16mm celluloid, that serve as examples of Godard and Gorin's revolutionary project:
Un film comme les autres [A Film Like Any Other]: An analysis of the social upheaval of May 1968 made in the immediate wake of the workers' and students' protests. The picture consists of two parts, each with with identical image tracks, and differing narration.
British Sounds, aka: See You at Mao: An examination of the daily routine at a British auto factory assembly line, set against class-conflict and The Communist Manifesto.
Vent d'est [Wind from the East]: A loosely conceived leftist-western that moves through a series of practical and analytical passages ("an organization of shots," Godard called it) into a finale based around the process of manufacturing homemade weapons.
Lotte in Italia / Luttes en Italie [Struggles in Italy]: Not necessarily a film about the struggles in Italy — largely shot, in fact, in Godard and Anne Wiazemsky's home at the time — this is a discursive reflection on a young Italian woman's shift from political "theory" to political "practice" and, at the same time, a self-questioning of its own practice and theories.
Vladimir et Rosa [Vladimir and Rosa]: A searing and satirical comic-reportage on the trial of the Chicago Eight, featuring Juliet Berto and Godard and Gorin themselves.
These films, long out-of-circulation except in film dupes and bootleg video, here make their Blu-ray debut, providing a crucial glimpse of Godard's radicalization, and of the aesthetic dialogue between him and Gorin that, in essence, served to invent a modern militant cinema. As Godard told an English journalist of the era, film is not a gun — but "a light which helps you check your gun."
Special Edition contents:
High-definition digital transfer
High-definition Blu-ray (1080p) and standard-definition DVD presentations
Original uncompressed monaural audio Optional English subtitles
A conversation with JLG - Interview with Jean-Luc Godard from 2010 by Dominique Maillet and Pierre-Henri Gibert
100-page full-colour book containing English translations for the first time of writing by, and interviews with, Godard and Gorin, and more
Plus more to be announced!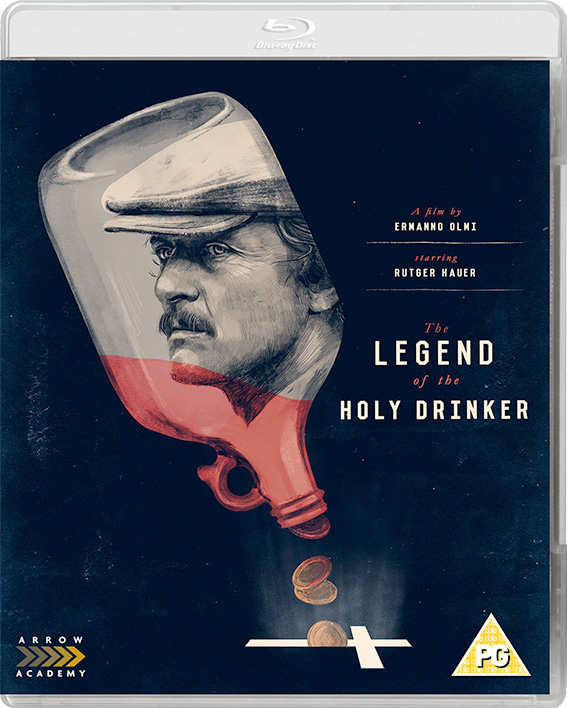 Legend of the Holy Drinker | Dual Format Blu-ray + DVD | 25 September 2017 | £24.99
Winner of the prestigious Golden Lion award at the Venice Film Festival, The Legend of the Holy Drinker is another classic from the great Italian director Ermanno Olmi (Il posto, The Tree of Wooden Clogs).
Adapted from the novella by Joseph Roth, the film tells the story of Andreas Kartack, a homeless man living under the bridges of Paris. Lent 200 francs by an anonymous stranger, he is determined to pay back his debt but circumstances – and his alcoholism – forever intervene.
Working with professional actors for the first time in more than 20 years, Olmi cast Rutger Hauer as Andreas and was rewarded with an astonishing performance of subtlety and depth. Hauer is joined by a superb supporting cast, including Anthony Quayle (Lawrence of Arabia), Sandrine Dumas (The Double Life of Veronique) and Dominique Pinon (Delicatessen).
Special Edition contents:
Brand-new 4K restoration from the original negative, produced by Arrow Films exclusively for this release
High Definition Blu-ray (1080p) and Standard Definition DVD presentations of both the English and Italian versions of the film
5.1 DTS-HD Master Audio and Stereo 2.0 options for the English presentation with optional English subtitles for the deaf and hard-of-hearing
Stereo 2.0 audio for the Italian presentation with optional newly translated English subtitles
Brand-new interview with actor Rutger Hauer, recorded exclusively for this release
Interview with screenwriter Tullio Kezich
Theatrical trailer 
First pressing only: New writing on the film by Helen Chambers, author of Joseph Roth in Retrospect: Co-existent Contradictions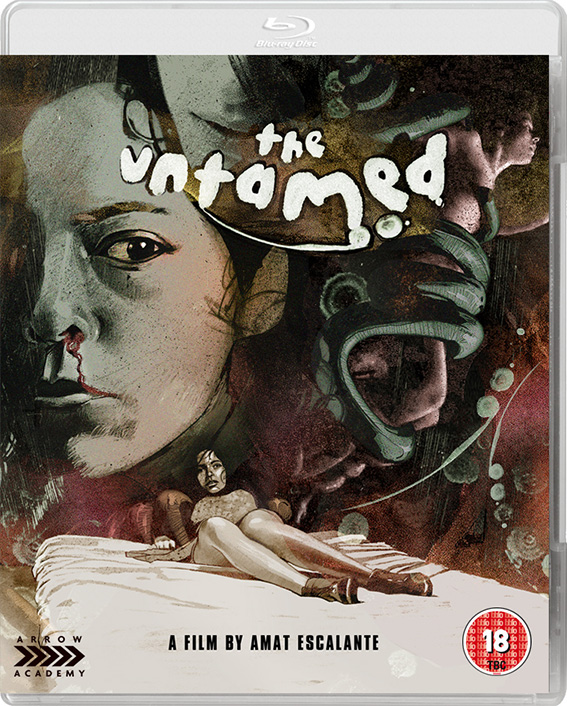 The Untamed | Blu-ray and DVD | 25 September 2017 | £19.99 (Blu-ray) £15.99 (DVD)
Celebrated filmmaker Amat Escalante follows up his critically lauded features Heli and Los Bastardos with the award-winning The Untamed, which critics have called "ferociously intelligent" (Jonathan Romney, Screen) and "brilliant, frightening" (Rory O'Connor, The Film Stage).
Alejandra is a housewife, raising two boys with husband Angel in a small city. Her brother Fabian works as a nurse in a local hospital. Their provincial lives are upset with the arrival of the mysterious Veronica. Sex and love can be fragile in certain regions where strong family values, hypocrisy, homophobia, and male chauvinism exist. Veronica convinces them that in the nearby woods, inside an isolated cabin, dwells something not of this world that could be the answer to all of their problems. Something whose force they cannot resist and with whom they must make peace or suffer its wrath. 
Escalante's film mixes Lovecraftian science fiction with social commentary as he tackles themes including corruption and social injustice, a mix that has won acclaim including the Silver Lion at the prestigious Venice Film Festival and Best Director at Austin's Fantastic Fest.
Special Edition contents:
High Definition digital transfer
5.1 DTS-HD Master audio
Optional English subtitles
Trailer
Reversible sleeve featuring original international art and newly commissioned artwork by the Twins of Evil
Plus more to be announced!