Eureka Entertainment are to release Harmonium [Fuchi ni tatsu], Kôji Fukada's subtle, slow-burning thriller steeped in tragedy, as part of the Masters of Cinema Series in a Dual-Format (Blu-ray & DVD) edition on 19 June 2017.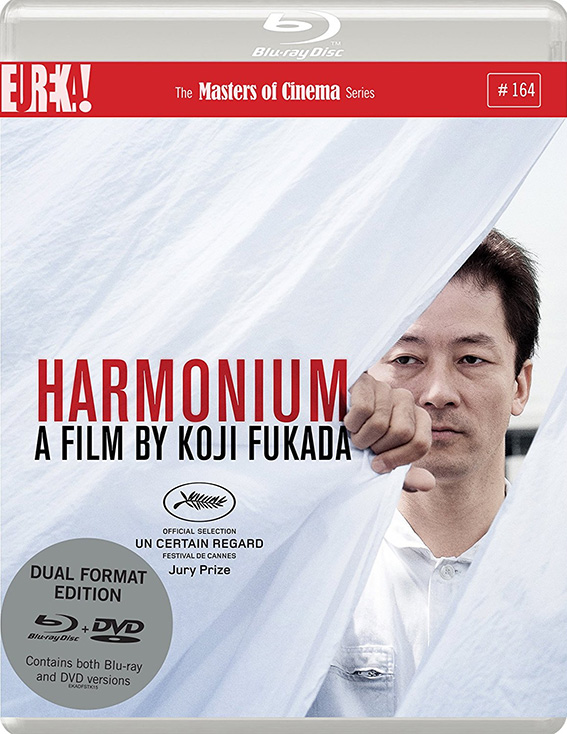 From the director of Au Revoir L'Ete and Hospitalité, Kôji Fukada's Harmonium is an off-kilter take on that most venerable of Japanese genres – the family drama, starring Tadanobu Asano (Silence, Ichi The Killer, Journey to the Shore) which screened to great acclaim at the 2016 Cannes Film Festival, where it was awarded the Un Certain Regard Jury prize.
In this slow-burn Japanese thriller Toshio invites an old acquaintance, Yasaka (just released from prison) to come and live with his family. Toshio lives above the small workshop that he owns with his wife, Akie, and their daughter, Hotaru. It is not clear why Toshio offers Yasaka a job; it doesn't seem to be out of friendship or goodwill. Akie and Hotaru are wary of the new lodger, but with his persistent charm and goodwill, Yasaka befriends Toshio's wife Akié and as Yasaka starts teaching their daughter Hotaru to play the harmonium, the family's fragile domestic bliss is forever altered.
Director Kôji Fukada is a master of incremental development, drawing the audience into the unfolding outcome. Masters of Cinema are m aking the film available for the first time on Blu-ray and DVD in this new Dual-Format edition.
"Expertly calibrated to reflect emotional realities … the film's insights into the isolation evident in the relationships most take for granted – marriages, parent-child connections and long-term friendships – don't merely hit their targets; they smash them with a sledgehammer" – Screen Daily

"With strong performances from Tsutsui and Asano… this is a beautifully crafted film" – Eye for Film
Dual Format features:
Stunning 1080p presentation (on the Blu-ray)
Uncompressed PCM soundtrack (on the Blu-ray)
Optional English subtitles
A new video interview with director Kôji Fukada
A new interview with actor Kanji Furutachi
Theatrical Trailer
A 32-page booklet featuring an appreciation of the film by Jason Wood, Director's Statement and Interview with Kôji Fukada