The latest film by celebrated auteur Mark Cousins (I Am Belfast, The Story of Film), Stockholm My Love follows the footsteps of Alva Achebe (Neneh Cherry), a Swedish architect fascinated by the way buildings influence lives but haunted by a tragic event from her past.
Mark Cousins and award-winning cinematographer Christopher Doyle (best known for his work with Wong Kar-wai on In the Mood for Love and the stylish visuals of Hero) filmed on the streets of the Swedish capital to create a visually stunning work about loss and rejuvenation, which marks the acting debut of acclaimed musician and singer Neneh Cherry.
The atmospheric soundtrack which follows Alva's path from grief to recovery, features five pieces of original music written specially for the film by Neneh Cherry with her husband, singer-songwriter-producer Cameron McVey (Massive Attack, Portishead), RocketNumberNine's Benjamin Page and Mark Cousins.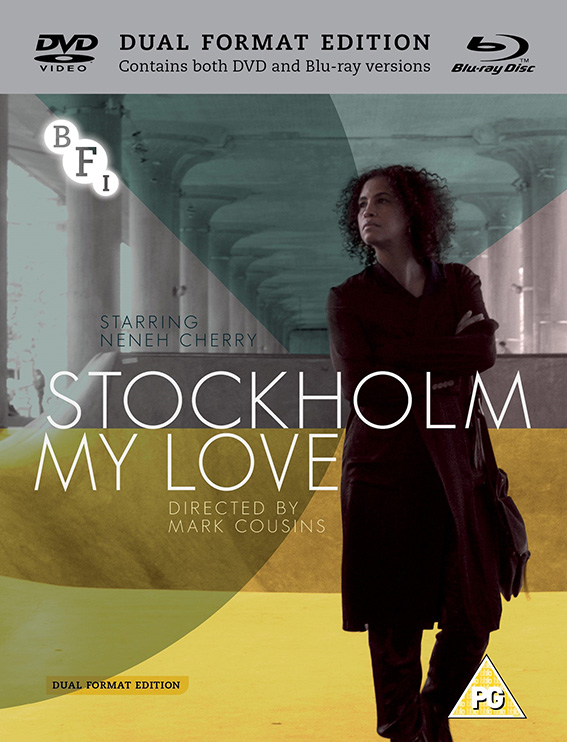 Following its forthcoming BFI theatrical release in selected cinemas UK-wide on 16 June, Stockholm My Love will be released in a Dual Format Edition by the BFI on 26 June 2017 at the RRP of £19.99.
Special features:
Behind the Scenes (2016, 17 mins): A featurette recording the making of Stockholm My Love
Stockholm Locations with Commentary (2017, 13 mins): Mark Cousins discusses the main locations
Planning Stockholm My Love (2017, 2 mins): Capturing a key moment in the film's genesis
Original theatrical and teaser trailers
2017 BFI theatrical trailer
Stills and poster gallery
Illustrated booklet with new writing on the film by critic Ian Christie and Mark Cousins, along with full film credits
More film info at www.stockholmmylove.com
Here's the BFI theatrical trailer:
And here Mark Cousins talks about the film at the BFI London Film Festival 2016: