Following a long tradition of cocky teenage boys with too much time on their hands, Brady, Sam and Mosley like to amuse themselves by making prank calls. However, their cellular diversions are intensified by the extreme nature of the pranks they put their unsuspecting victims through, and the delight and encouragement they receive when they post videos of their hijinks online for maximum humiliation. Having pushed the wrong person too far, they find themselves on the other side of a call, and an evening intended for normal high school revelry turns increasingly bloody as their unknown assailant ramps up a prank of his own.
Don't Hang Up is the debut feature of writer Joe Johnson and directors Damien Macé and Alexis Wajsbrot, both of whom had previously made their names in the world of visual effects, concept art and matte painting, with credits on the likes of Avatar, Star Trek Into Darkness, Game of Thrones and Gravity. It stars Gregg Sulkin (Pretty Little Liars, Faking It, Anti-Social), Garrett Clayton (King Cobra, Teen Beach Movie), Sienna Guillory (Resident Evil: Retribution, Love Actually) and Bella Dayne (Humans, Plebs)
Said the Los Angeles Times of the film: "It's a taut, if somewhat hysterical, cycle of bait and switch, twists and turns, retribution, vengeance and mental torture payback for immature mind games with deadly results. It resolves itself in a dark, Kafka-esque ending that renders Don't Hang Up almost a fable and definitely a cautionary tale."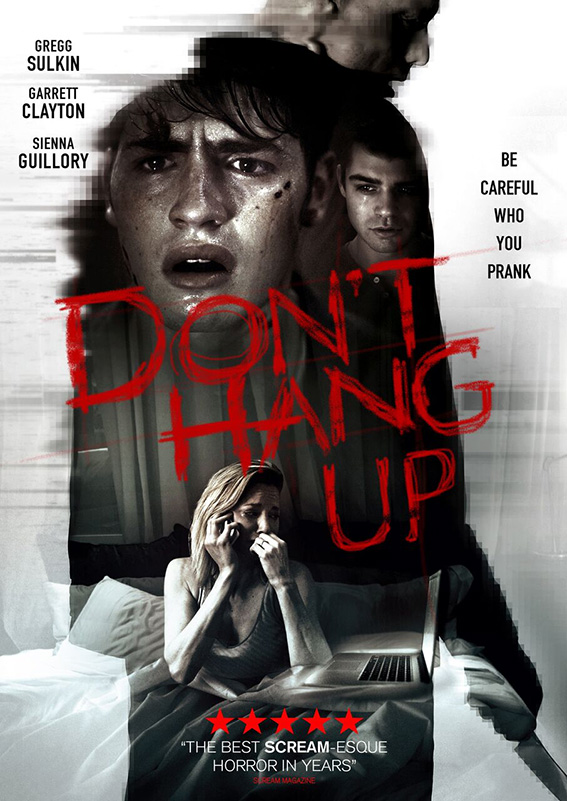 Don't Hang Up comes to UK DVD on 12 June 2017 and Digital on 26 June from Solo Media and Matchbox Films at a yet to be confirmed RRP.
No special features have been listed.
Here's the trailer, but be warned that it looks like it's peppered with spoilers: