Rarely seen in the past 40 years, the latest BFI Flipside title marks the first ever home entertainment release of Long Shot, a slice of Scottish cinema in which two low budget filmmakers attempt to talk up some finance in a brilliantly barbed movie-biz satire, played out against the backdrop of the 1977 Edinburgh Film Festival.
Shot for next to nothing on short-end scraps of black and white stock, this deadpan verité-style comedy drama follows director Charlie (Charles Gormley) and scriptwriter Neville (Neville Smith) on the hunt for cash, cast and 'name director' Sam Fuller to shoot their Aberdeen-set oil-boom adventure 'Gulf and Western'. Along the way they encounter a plethora of filmmaking luminaries including Wim Wenders, Stephen Frears, John Boorman, Bill Forsyth and Alan Bennett.
Long Shot was directed by Maurice Hatton and written by Eoin McCann from a story by Hatton.
Long Shot is the 34th release from the BFI Flipside label, which rescues weird and wonderful British films from obscurity and presents them in new high quality editions on DVD and Blu-ray.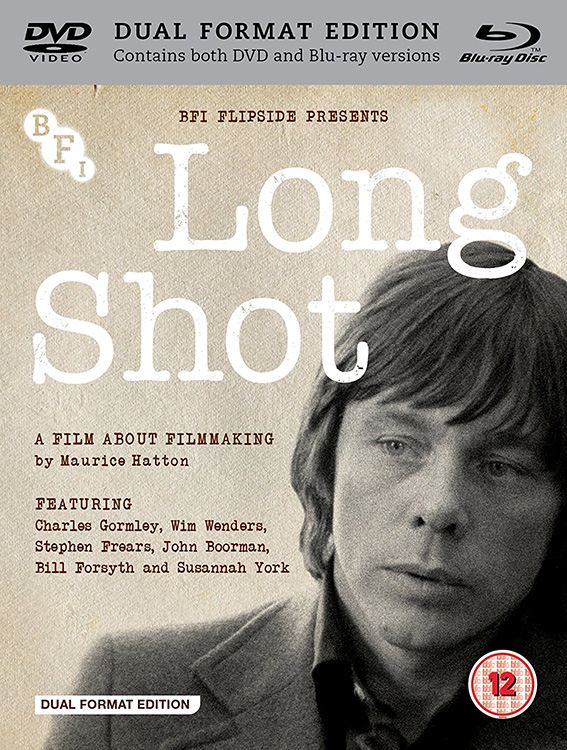 Long Shot will be released in the UK as a Dual Format edition (Blu-ray & DVD) on 26 June 2017 by the BFI as part of its Flipside strand at the RRP of £19.99.
Special features:
Scene Nun, Take One (Maurice Hatton, 1964, 26 mins): London-set comedy short starring Susannah York
Hooray for Holyrood (Ross Wilson, 1986, 38 mins): Scottish Television film celebrating the 40th anniversary of the Edinburgh Film Festival, presented by Robbie Coltrane
Sean Connery's Edinburgh (1982, 28 mins): Promotional film starring the iconic actor
Booklet with new writing from Bill Forsyth, Dylan Cave (BFI), Vic Pratt (BFI) and full film credits
Here's the newly created trailer: