The Bafta Award-winning film Touching the Void will return to the big screen on Sunday 18 June for one night only. A world premiere, composer Alex Heffes, a long-time collaborator of director Kevin Macdonald, will bring his brilliant and dramatic score to life in a live presentation of the whole film with a 60-piece orchestra at the Barbican Hall in London.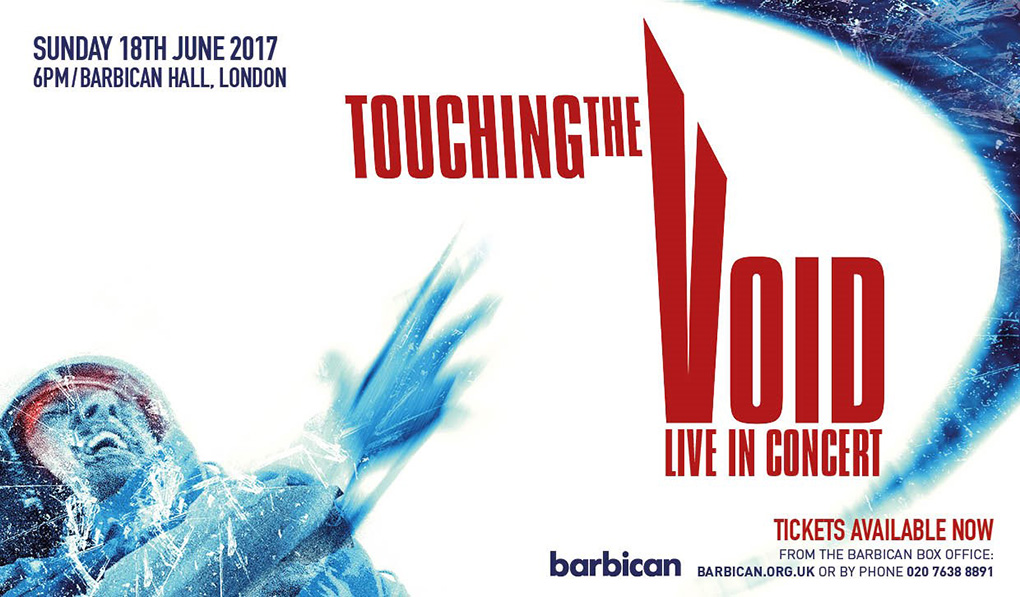 In an exclusive Q&A before the event, author and legendary climber Joe Simpson, director Kevin Macdonald and composer Alex Heffes will be reunited on stage to discuss the background and making of the film; a unique chance for the audience to hear, directly from the filmmakers, how Simpson's book was brought to the screen.
In 2003, Oscar-winning director Kevin Macdonald (One Day In September, The Last King of Scotland) adapted Joe Simpson's book into a drama-documentary film, featuring interviews with Simpson and his climbing partner Simon Yates, together with dramatised scenes of the events. Touching the Void won Best British Film at the 2004 Bafta Awards after opening to critical acclaim; critic Roger Ebert described it as "an unforgettable experience... enthralling, fascinating, terrifying" and Time Out proclaimed it to be "a meditation on extreme human endeavour, character, friendship..."
Alex Heffes says: "It's a thrill to be performing my music to Touching the Void live to picture. It's a wonderful chance to bring this amazing film to a new audience and for me to revisit it with my long-time friend and great director Kevin Macdonald."
Joe Simpson says: "It will be great to see the film on the big screen again and thrilling to hear Alex's score played live, as well as discuss the story and film in front of an audience at the Barbican."
Touching the Void tells the extraordinary story of two British climbers, Joe Simpson and Simon Yates, who attempt the west face of Siula Grande in Peru. Hampered by snowstorms on their descent, Simpson fell through a hole masked by a snow drift and, still attached to Yates by rope and with a severely broken leg, was hanging in mid-air over a precipice. Yates cut the rope so at least one of them would survive. Simpson, by some miracle, also survived and, despite terrible injuries, crawled to safety. The story, of life-changing decisions and incredible survival against the odds, captivated the world and Simpson's book on his experience became a best-seller.
This vivid and pulsating film, enhanced by Heffes' original music played live promises to be a unique presentation of this incredible tale of survival and human endurance.
The screening will take place at Barbican Hall on Sunday 18 June 2017 from 6pm.
Tickets available now from the Barbican box office: barbican.org.uk or by phone 020 7638 8891.
You can read our review of the DVD release of the film here.