Experienced coroner Tommy Tilden and his son Austin run a family-owned morgue and crematorium in Virginia. When the local Sheriff brings in an emergency case – an unknown female corpse nicknamed 'Jane Doe', found in the basement of a home where a multiple homicide took place – it seems like just another open-and-shut case.
But as the autopsy proceeds, these seasoned professionals are left reeling as each layer of their inspection brings frightening new revelations. Perfectly preserved on the outside, Jane Doe's insides have been scarred, charred and dismembered – seemingly the victim of a horrific yet mysterious ritualistic torture. As Tommy and Austin begin to piece together these gruesome discoveries, an unnatural force takes hold of the crematorium. While a violent storm rages above ground, it seems the real horrors lie on the inside...
"Some things you can't unsee," so says Emile Hirsch's character, a junior mortician, at the start of this nerve-shredding chiller. Be warned – the master of literary horror himself, Stephen King, describes The Autopsy of Jane Doe as "visceral horror to rival Alien and early Cronenberg", you know you're in for something scary, while The Devil's Backbone and Pan's Labyrinth director Guillermo Del Toro called it ""A fun, stylish, beautifully built funhouse of horror!"
"One of the smartest, most gripping horror movies in recent years" (Birth. Movies. Death) is produced by Fred Berger (La La Land), Eric Garcia (Cassandra French's Finishing School), alongside Ben Pugh and Rory Aitken from UK-based production and management outfit, 42 (The Other Side Of The Door, Welcome to the Punch, Shifty). Director André Øvredal burst onto the scene in 2010 with his cult horror comedy Trollhunter. For his follow up, Øvredal has moved into more deliciously dark territory, and doesn't shy away from the grisly subject matter at hand.
Smartly scripted, with the layers of the story being peeled back as a storm brews and the tension is ratcheted, The Autopsy of Jane Doe has its share of bravura scenes – the introduction to the father and son morticians is gruesomely exhilarating, and the titular autopsy is toe-curling and gut-wrenching. Emile Hirsch (Into the Wild) and Brian Cox (the original Hannibal Lector in Manhunter), play off each other impressively here; ably supported by Guardians of the Galaxy star Ophelia Lovibond and Michael McElhatton from Game of Thrones. Special mention to Olwen Kelly as Jane Doe - whose still, wordless presence in every scene is unspeakably unsettling.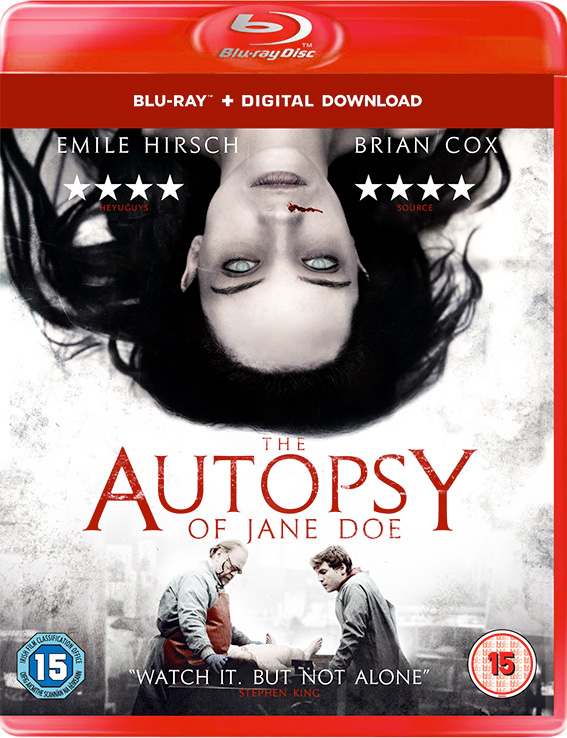 The Autopsy of Jane Doe will be released on UK EST on 19 June 2017 and UK DVD, Blu-ray and VOD on 26 June 2017 from Lionsgate at a yet to be confirmed RRP.
Disc special features:
Q&A with Director André Øvredal