Palme d'Or winner Cristian Mungiu (4 Months, 3 Weeks & 2 Days, Beyond the Hills) returns with a masterly exploration of moral compromise and bureaucratic corruption, told through a captivating and intricately-plotted family drama that grips like a thriller.
Romeo, a physician living in a small mountain town in Transylvania, has raised his daughter, Eliza, with the idea that once she turns 18 she will leave to study abroad in the UK. But on the day before Eliza's first entrance exam to university she is assaulted in an attack that could jeopardize her entire future. Now Romeo has a decision to make – there are ways of solving her predicament, but not without betraying the moral principles that he, as a father, has taught Eliza throughout her life.
Winner of the Best Director prize at Cannes 2016, Graduation is a stunningly crafted morality play from one of European cinema's most revered auteurs. Executed with intricate formal precision and Mungiu's characteristically raw and authentic form of naturalism, Graduation is the mark of a filmmaker at the height of his powers.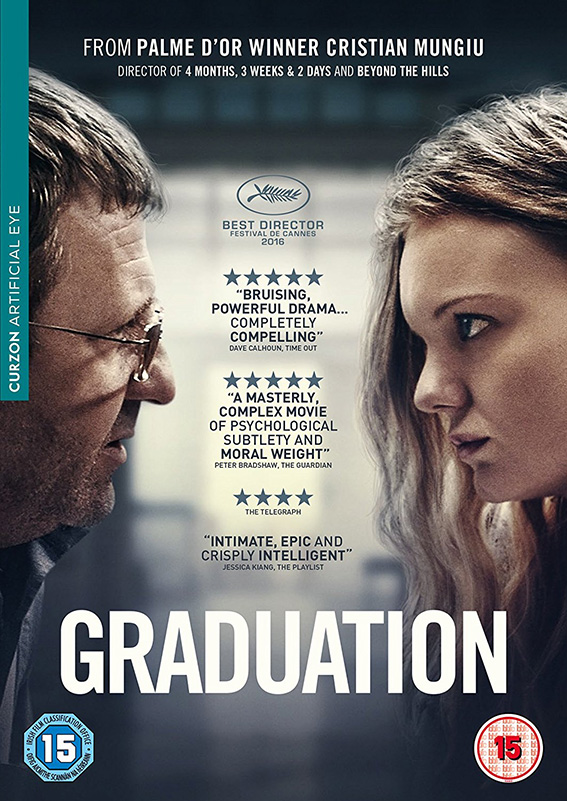 Described by The Guardian as "A masterly, complex movie of psychological subtlety and moral weight," Graduation will be released on UK Blu-ray and DVD on 15 May by Curzon Artificial Eye at the RRP of £19.99 for the Blu-ray and £15.99 for the DVD.
Special features:
Interview with Cristian Mungiu