Critically dismissed but a hit with audiences, it spawned numerous sequels, spin-offs and inspired numerous haunted house copycats. It even became the subject of a top 20 hit single – Lovebug Starski's Amityville (House on the Hill). And now, almost 40 years after it scared homeowners everywhere witless, The Amityville Horror is finally getting its first ever UK Blu-ray release in a limited edition Steelbook courtesy of Second Sight.
Cool Hand Luke and Brubaker director Stuart Rosenberg's seminal shocker The Amityville Horror starring James Brolin (Westworld), Margot Kidder (Superman), Rod Steiger (On the Waterfront) and Don Stroud (The Buddy Holly Story), is original 1979 adaptation of Jay Anson's bestseller, which was claimed to be based on true events, a celebrated piece of hype that we never bought into. It's still a fun read.
When George and Kathy Lutz and their children move to Amityville, Long Island they believe they have found the perfect family home. But the house has a shocking history and within its walls a demonic presence lies in wait that will turn the Lutz's lives into a living nightmare.  Their only hope is to get out before it's too late.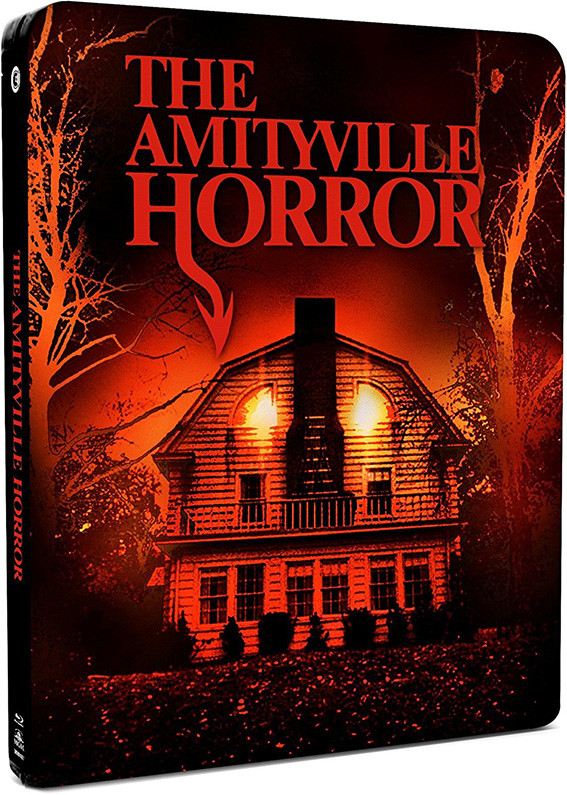 The Amityville Horror will be release as a Limited Edition Blu-ray Steelbook on 26 June by Second Sight at the RRP of £22.99.
Limited Edition special features:
Brolin Thunder – a new interview with actor James Brolin
Child's Play – a new interview with actor Meeno Peluc
Amityville Scribe – a new interview with screenwriter Sandor Stern
The Devil's Music – a new interview with soundtrack composer Lalo Schifrin
My Amityville Horror – feature-length documentary with Daniel Lutz
For God's Sake, Get Out – featuring James Brolin and Margot Kidder
Intro by Dr. Hans Holzer, PhD. in parapsychology (author of Murder in Amityville)
Audio commentary by Dr. Hans Holzer
Original trailer, TV spot, radio spots
Four reproduction lobby card postcards (SteelBook Exclusive)