Today Matchbox Films announced that it will release critically acclaimed festival hit The Shepherd [El Pastor] in UK cinemas 2nd June 2017.
Written, Directed and Produced by Jonathan Cenzual Burley (The Soul of Flies, The Year and the Vineyard) The Shepherd won Best Film, Best Director and Best Actor (Miguel Martín) at Raindance Film Festival 2016, won the Grand Jury Prize for Best Film at the Latinita Festival de Cine Espanol y Latinoamericano in February 2017 and has been officially selected for many film festivals worldwide.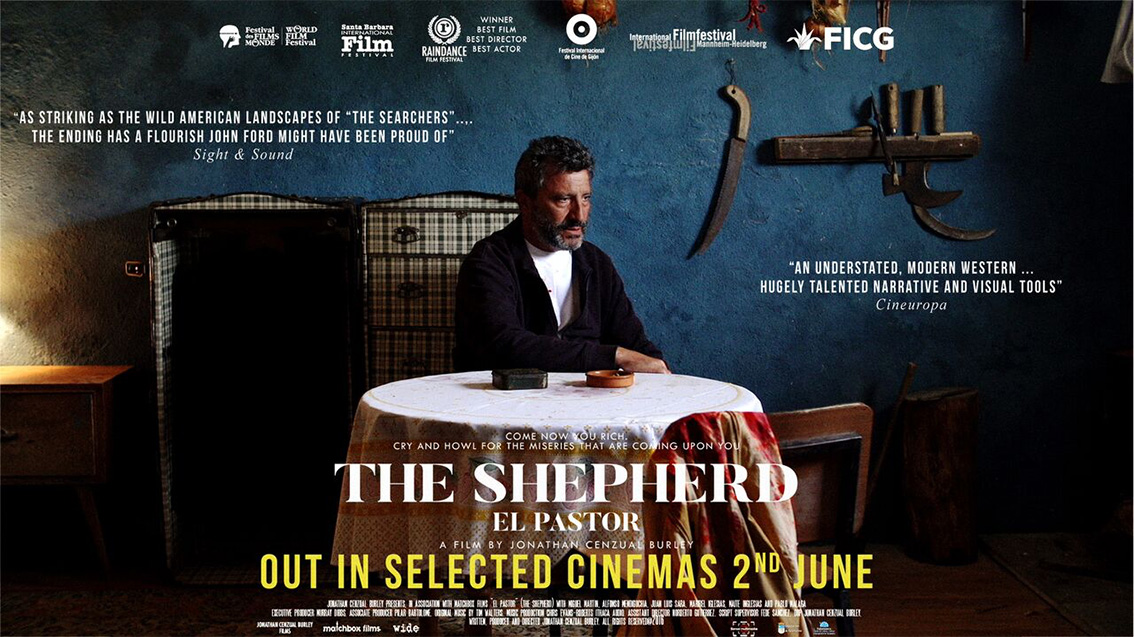 Starring Miguel Martín (as Anselmo), Maribel Iglesias and Alfonso Mendiguchía, The Shepherd follows how a lonely shepherd's home and way of life is threatened when building promoters become interested in his land.
Anselmo, a middle-aged shepherd, lives a poor but happy life in a small, run down house in the middle of the Spanish plains, near a small, but growing village. His dog Pillo and his sheep are his only company. A life bucolic enough for him to ignore the offers he receives from a construction company who wants to buy his house and land to build a new residential complex.
Conflicting against Anselmo's unwillingness to sell is Julian and Paco's greed, the owners of the neighbouring lands, who only answer to their own interests. A bloody metaphor of the greed that corrodes those who do not answer to reason in their quest to get what they want, and the inevitable, but violent consequences of their actions.
Director Jonathan Cenzual Burley said:
"Every filmmaker wants to see their film in a cinema, it's the pinnacle of what we work for. But in the case of The Shepherd I'm extremely happy about its release because of the film's subject matter. I want to reach as many people as possible, to make this critique on greed heard, especially at the moment, where greed seems to be the driving force behind everything. I believe it's important to stop for a second and to really think about what moral barriers we are willing to cross and to what extent we will allow people to abuse others just because they think they can."

About director Jonathan Cenzual Burley:
Born in Salamanca (Spain) in 1980, Jonathan moved to the UK in 1996.
After working in different music videos and video installations for live concerts he shot his first feature.
El Alma de las Moscas [The Soul of Flies] in 2009, although the film was made without a budget and with a team of 7 people all working behind and in front of the camera, El Alma de las Moscas premiered at the prestigious Karlovy Vary IFF in 2011 and went onto be selected in some of the best festivals in the world, like London LFF (BFI), Sao Paulo, Mill Valley and Warsaw, where it won a Jury Special Mention.
El Alma de las Moscas was released theatrically and on DVD/VOD in the UK and in VOD in major territories like the US.
In 2012 he made El Año y la Viña [The Year and the Vineyard], again without a budget. It premiered at Mill Valley IFF and it was released theatrically and on DVD/VOD in the UK.
In 2014 he was invited to attend Berlin Film Festival as part of the Berlinale Talent Campus.
Currently he's working on his first photography book and preparing his first English Speaking feature.
More at http://jcenzual.wixsite.com/jcenzual