A man (Iko Uwais) is discovered left for dead with a gunshot wound to the head, and, after months in a coma, is nursed back to health by young student-doctor Ailin. Realising that the man is an amnesiac, Ailin renames him Ishmael. When Ailin is kidnapped by a gang of dangerous criminals led by enigmatic crime lord Lee, Ishmael suspects his true identity is closely tied to these people. Determined to save the woman who rescued him, Ishmael has no choice but to confront his past. But every violent confrontation that Ishmael encounters brings him closer to a dark realisation, as a lethal personality begins to awaken within him.
Acclaimed Indonesian genre directors Timo Tjahjanto and Kimo Stamboel, aka The Mo Brothers (Macabre, Killers, The ABCs of Death), have crafted a thrilling and innovative action film, with a superb set-up – the hero knows who the enemy is, but doesn't know exactly why, and on top of that he himself is a powder keg about to explode. It's as if Jason Statham was starring in a Bourne film directed by John Woo.
The directors have enlisted the considerable talents of Iko Uwais, star of Gareth Evan's The Raid films (and last seen in The Force Awakens), to star as Ishmael, a man with a bullet lodged near his brain and a special set of lethal skills he doesn't know how he acquired – and the only way he can find out is to fight his way to the top of a criminal empire, meaning one set piece after another of exquisitely choreographed and ever escalating carnage, including a sequence on a bus that is the equal of The Raid 2's subway hammer attack. Uwais has the potential to be an action star of Jackie Chan proportions, and Headshot will propel him in the right direction.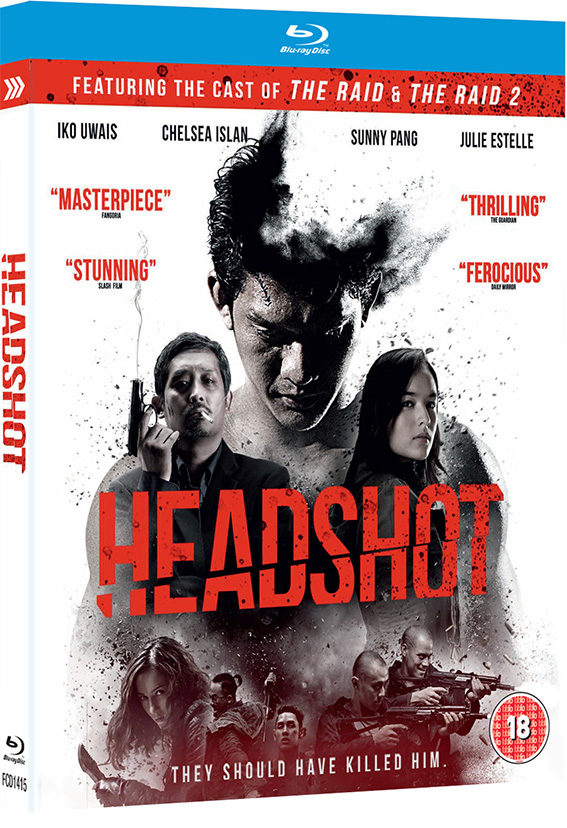 Headshot will be released on UK Blu-ray, DVD and Digital Download from Arrow Films on 5 June 2017 at a yet to be confirmed RRP.
No special features have been listed. We're actually surprised. It's Arrow!
Check out the trailer: