Curzon Artificial Eye has announced the Blu-ray and DVD release of It's Only the End of the World, the most recent film from wunderkind Xavier Dolan (Heartbeats, Laurence Anyways), adapted from the play by Jean-Luc Lagarce.
After twelve years of estrangement a terminally ill writer (Gaspard Ulliel – Hannibal Rising, A Very Long Engagement) returns to his hometown, planning on announcing his impending death to his family. However, his mother (Nathalie Baye – Laurence Anyways, Catch Me If You Can), tempestuous siblings Antoine (Vincent Cassel – La Haine, Irreversible) and Suzanne (Léa Seydoux – Blue Is the Warmest Colour, Spectre) and beleaguered sister-in-law (Marion Cotillard – La Vie en Rose, Rust and Bone) have their own personal grievances to air. As buried resentments threaten to surface and fits and feuds begin to unfold, all attempts at empathy and resolution seem increasingly out of reach.
Winner of the Grand Prix at Cannes 2016, It's Only the End of the World is a bold and stylistically daring melodrama performed with thunderous emotion. Taut, tense and packed with explosive performances shot in claustrophobic close-up, it further confirms Dolan as one of the most singular talents in world cinema.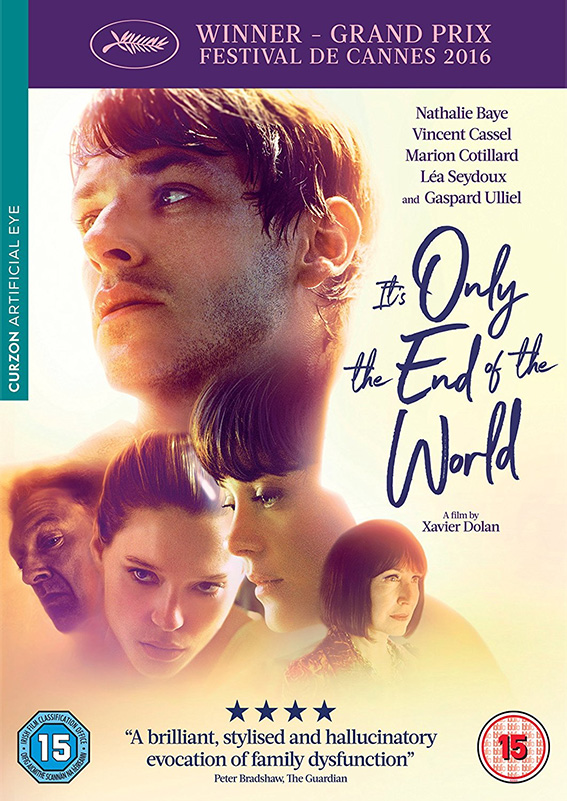 It's Only the End of the World will be released on UK Blu-ray and DVD on 24 April 2017 by Curzon Artificial Eye at the RRP of £19.99 for the Blu-ray and £15.99 for the DVD.
Special features:
Interview with Xavier Dolan and Marion Cotillard
Trailer