Solascope Motion Pictures is proud to announce the digital release of The Pyramid Texts, winner of Best Performance in a British Feature Film for lead actor James Cosmo and nominee for the Michael Powell Award for Best British Feature at the 69th Edinburgh International Film Festival. The film will be available on iTunes, Amazon, and Google Play from 28th April 2017.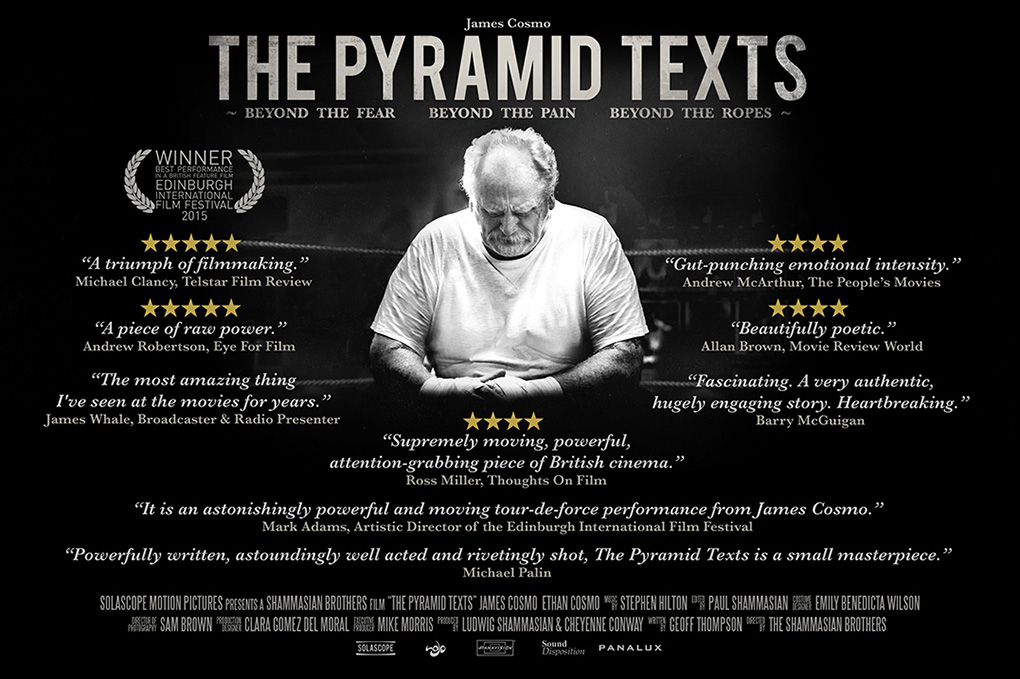 If we have been remiss in our life, and hurt the people we most love, is it ever too late to redress the balance? Ray (James Cosmo), a lonely old boxer, desperately estranged from his son, records his loves, his regrets and his greatest life lessons to a camera in an empty boxing gym. His is a desperate hope that no estrangement is permanent, and that it is never too late to say sorry.
The film presents an astonishingly powerful and moving tour-de-force performance from James Cosmo (Game of Thrones, T2 Trainspotting, Braveheart) as veteran fighter Ray. With a long, ferocious career inside the boxing ring and a reckless life outside, Ray finally bears all his physical and emotional scars while desperately trying to reconcile with his estranged son.
Shot in black-and-white and set against the backdrop of a boxing ring, the script, by BAFTA winner Geoff Thompson, is directed by the Shammasian brothers, Ludwig and Paul, who bring it powerfully to the screen in their acclaimed feature debut.