Revolution: New Art for a New World, directed and produced by the BAFTA-winning Margy Kinmonth (Hermitage Revealed, Royal Paintbox) & co-produced by the Emmy-winning Maureen Murray (Lady Chatterley) on DVD from 3rd April. The film's release coincides with this year's centenary of the Russian Revolution and follows a preview of the film featured at the official launch of the Royal Academy of Arts, Revolution: Russian Art 1917–1932 exhibition this year.
Revolution: New Art for a New World brings to life the artists of the Russian Avant-Garde by drawing on the collections of major Russian institutions, including rare unseen 100 year old archive footage from the Russian film vaults. Also featured are contributions from contemporary artists, curators, performers and personal testimony from the descendants of those involved, many of which have never been filmed before. It tells the stories of artists like Chagall, Kandinsky, Malevich and others – pioneers who flourished in response to the Utopian challenge of building a New Art for a New World, only to be broken by implacable authority after 15 short years.
Stalin's rise to power marked the close of this momentous period, consigning the Avant Garde to obscurity. Yet the Russian Avant-Garde continues to exert a lasting influence over art movements up to the present day. Revolution: New Art for a New World confirms this, exploring the fascination that these colourful paintings, inventive sculptures and propaganda posters retain over the modern consciousness 100 years on.
Revolution: New Art for a New World was filmed entirely on location in Moscow, St. Petersburg and London, with access to The State Tretyakov Gallery, The State Russian Museum, The State Hermitage Museum and in co-operation with The Royal Academy of Arts, London. The film features paintings previously banned and unseen for decades, and masterpieces which rarely leave Russia. Contributors include Museum Directors Professor Mikhail Piotrovsky and Zelfira Tregulova and film director Andrei Konchalovsky. The film also features Matthew Macfadyen, Tom Hollander, James Fleet, Eleanor Tomlinson and Daisy Bevan.
Director/producer Margy Kinmonth says:
"I was inspired, as an artist, to discover how many of the descendants of Russian Avant-Garde artists are themselves working as artists today. Access to their intensely moving stories brings to life this extraordinary period of artistic innovation, which continues to exert such a powerful legacy a hundred years on."
Revolution – New Art for a New World was created with the support of Alisher Usmanov the Founder of the Art, Science and Sport Charity Foundation who has said:
"The beginning of the 20th century is one of the most exciting periods in the development of Russian and world art. The film Revolution - New Art for a New World allows viewers to immerse themselves in this controversial time for a fresh look at the ideas and works of art of the avant-garde, whose courage amazes after 100 years."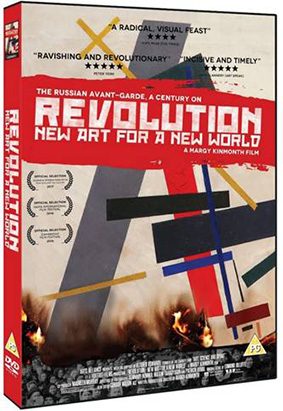 Revolution: New Art for a New World will be released on UK DVD on 3 April 2017 by Foxtrot Films at the RRP of £19.99.
Special features – previously unseen footage:
Film Trailer
Avant-Garde Architecture – Interview with Christina Lodder (Vice President, Malevich Society)
The People's Museum – Interview with Dimitri Ozerkov (Head of Contemporary Art, State Hermitage Museum)
'Storming' The Winter Palace – Interview with Mikhail Piotrovsky (Director, State Hermitage Museum)
Women Artists – Interview with Zelfira Tregulova (Director, State Tretyakov Gallery)
Malevich – Interview with Evgenia Petrova (Deputy Director, State Russian Museum)
Throwing The Stone – Biomechanic Etude
Lenin In Smolny – Interview with Irina Pronina (Curator of Painting, State Tretyakov Gallery)
Drevin and Udaltsova – Interview with Tatiana Zelyukina (Curator of Painting, State Tretyakov Gallery)
Gulag – Interview with Anne Applebaum (Historian)
The Curse of Stalin's Wreath – Interview with Nina Suetina (Daughter of Nikolai Suetin)
Punin – Interview with Natalia Murray (Biographer of Nikolai Punin)