Arrow Films is delighted to announced that it will be releasing the critically acclaimed documentary Gleason in UK cinemas from 17 March 2017. Directed by Clay Tweel (Finders Keepers, Print the Legend, Make Believe), the film follows former American football star Steve Gleason as he is diagnosed with MND/ALS (Motor Neurone Disease) at the age of 34 and learns that his wife is pregnant with their first child.
Determined to live his remaining years to its fullest, Steve goes on an expedition to Alaska, creates a foundation to help other MND / ALS patients, repairs a rocky relationship with his father and embraces new technologies to help compensate for his deteriorating physical abilities – all with Michel's unwavering support. Brimming with humour and heart, this inspirational documentary follows a man who battles overwhelming adversity to find his true purpose in life.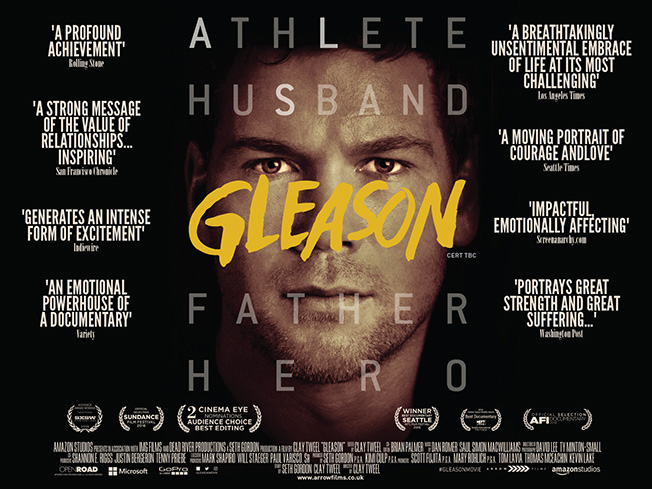 Gleason is written and directed by Clay Tweel, cameras operated by Ty Minton-Small and David Lee; edited by Tweel and Brian Palmer (Finders Keepers, Print the Legend), music by Dan Romer (Beasts of No Nation, Beasts of the Southern Wild) and music sound designer Saul Simon MacWilliams (Beasts of No Nation).
Gleason premiered in the UK at the BFI London Film Festival 2016 and won the Audience Award at SXSW Film Festival 2016, The Critics Choice Documentary Award, Special Jury Mention at the Full Frame Documentary Film Festival as well as Best Documentary at the Seattle International Film Festival, Phoenix Film Critics Society Awards and North Texas Film Critics Association. Gleason has also been nominated across multiple awards and festivals including Sundance Film Festival for the Documentary Grand Jury Prize.
Gleason will be released in UK cinemas on 17 March 2017 from Arrow Films.
For more information please visit: www.mndassociation.org.