A mysterious viral outbreak pushes Korea into a state of emergency. The government declares martial law just as divorced Seok-woo and his daughter catch the KTX bullet train from Seoul to Busan to see her mother. But someone on the journey has been recently infected sending the hurtling carriages into complete chaos. As the living dead transform the voyage into a nightmare excursion, father and daughter and a small group of uninfected passengers must fight for survival.
After a year of megabudget tentpole and franchise disappointments, along comes Train to Busan [Busanhaeng], a thrilling cross between The Raid, 28 Days Later and World War Z, of which The Guardian said, "finally, the blockbuster for which we've all been waiting."
The action feature debut from Korean animator Yeon Sang-ho has got it all – white-knuckle tension, superbly choreographed action set pieces, and production values that would shame a Hollywood production – in short, it's "pretty much everything you could possibly want a zombie film to be" (The Telegraph) and, according to Empire, one of the best horror films of the year.
Train to Busan also has heart, with the central relationship between a workaholic dad and his estranged daughter (Yoo Gong and Soo-an Kim) giving the film an emotional punch. There is also a strong ensemble cast making up the passengers trapped on the Busan train, including a pair of young lovers, two elderly sisters, and, in a stand-out role, Ma Dong-seok (The Good the Bad the Weird) as a man who will do anything to protect his pregnant wife. It also features one of cinema's most diabolical villains in the form of a businessman far nastier than any of the zombies. Just like the real world, then.
The film has broken box office records across Asia and enjoyed considerable critical acclaim since premiering at Cannes Film Festival's Midnight Screening. It closed London's Horror Channel FrightFest, with many declaring it the best film of the festival. And no less an authority than Kick-Ass, X-Men and Kingsman scripter Jane Goldman suggests it is a "genre-defining masterpiece".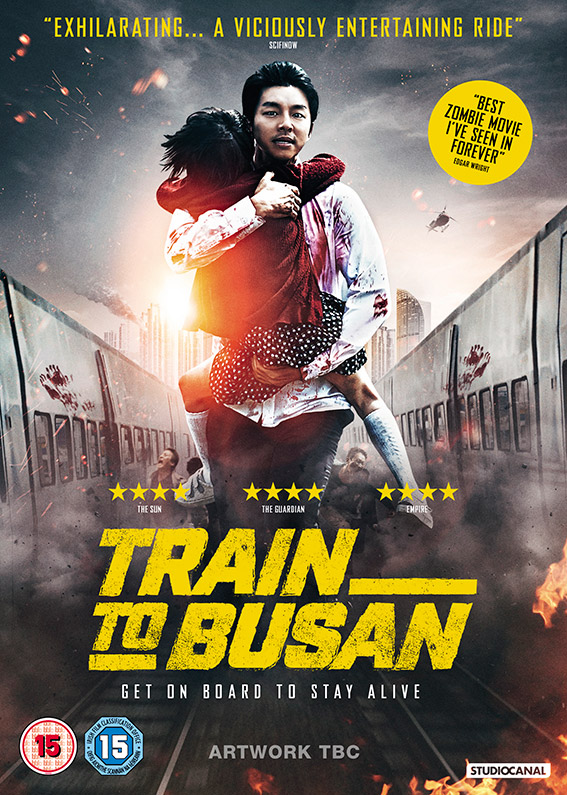 Described by Empire as "One of the best horrors of the year: innovative, effective and more terrifying than a rail replacement bus service," Train to Busan will be released on UK Blu-ray, DVD and VOD on 27 February 2017 by StudioCanal at a yet-to-be-confirmed RRP.
Special features:
Making of Train to Busan
'Sneak peak' of Train to Busan animated prequel Seoul Station
Seoul Station trailer