John Michael McDonagh, the award winning writer/director of The Guard and Calvary, heads stateside for what The Observer called a "bitingly funny and unapologetically offensive" buddy movie comedy thriller, starring True Blood's Alexander Skarsgård and End of Watch's Michael Peña, as a pair of crooked cops the likes of which you've never seen before.
Gleefully offensive and gloriously entertaining, McDonagh's buddy cop crime comedy hits all the right notes, from the pairing of Skarsgård and Peña in the leads to the slick, stylised retro settings and over-the-top hilarity. Suffused with McDonagh's trademark jet black humour, littered here with a generous helping of near-the-knuckle, take-no-prisoners gags, and featuring an off kilter, anything goes plotline, this is two parts Tarantino, one part Jim Thompson, with a hefty measure of Shane Black, all shaken up into a fine and frenzied film cocktail.
The film also stars Tessa Thompson (Westworld, Creed), Caleb Landry Jones (No Country For Old Men, Antiviral) and Theo James (Divergent, Insurgent, Allegiant).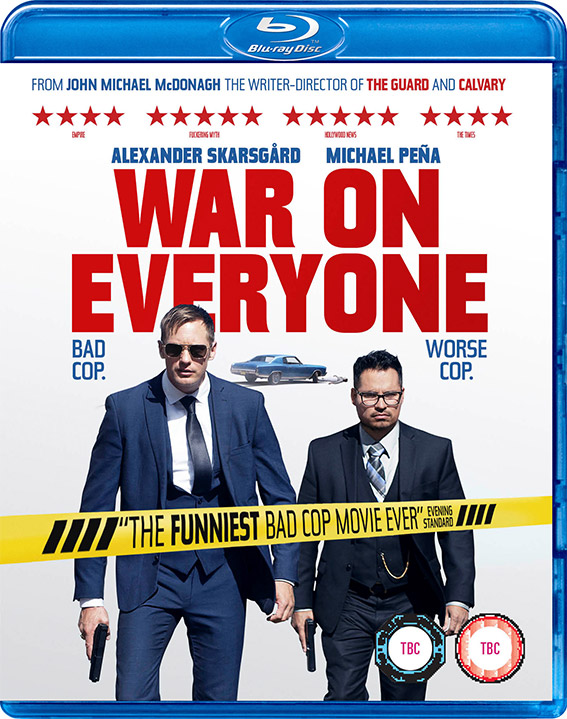 Described by The Times as "A thinking person's Bad Boys, this off-kilter indie crime comedy introduces two deliriously warped lawmen to the screen," War on Everyone will be released in the UK on Digital HD on 23 January 2017 and Blu-ray and DVD on 30 January 2017 by Icon Home Entertainment at an as-yet unconfirmed RRP.
Special features: