A young brother and sister, roaming an apocalyptic city, take refuge in the dilapidated lair of a strange hermit. He puts them to work building a bizarre cavernous structure, where he acts out his insane and depraved fantasies. Trapped in this maddening womb-like world under his malign influence, they find themselves sinking into the realms of dark and forbidden behaviour.
Acclaimed by the Oscar-winning Mexican directors of The Revenant and Gravity, and playing to rave reviews and stunned audiences at genre film festivals around the world We Are The Flesh is that rare beast – an intelligent, beautifully-crafted art house film that is also provocative and deeply disturbing.
Mixing the graphic, powerful imagery of Gaspar Noé's Love and Enter The Void with the surreal, hallucinatory impact of Alejandro Jodorowsky, and taking Mexican arthouse cannibal flick We Are What We Are to the next level, We Are The Flesh is a bizarre, psychedelic head trip, mixing intense, outrageously explicit imagery with a profound allegory on the nature of existence, to make this is an unforgettable, boundary-pushing experience unlike anything you've ever seen.
"I loved this film. It takes over our waking thoughts, like a recurring dream we try to forget, because we are fearful of finding out it may be a memory." – Gravity director Alfonso Cuaron.

"We Are the Flesh is a very personal, very powerful film that deeply impressed me." – The Revenant director Alejandro Gonzalez Iñarritu.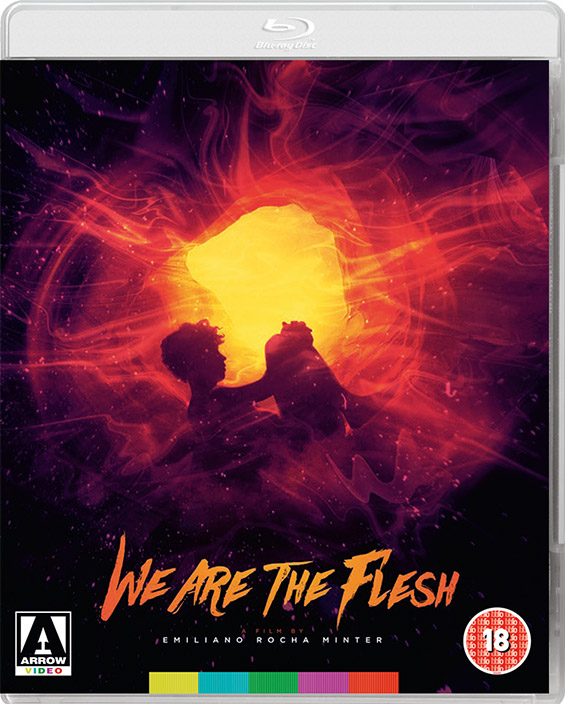 We Are the Flesh will be released on UK Blu-ray, DVD and Digital HD on 13 February 2017 from Arrow Video at the RRP of £19.99 for the Blu-ray and £17.99 for the DVD.
Blu-ray and DVD features:
High Definition Blu-ray (1080p) and Standard Definition DVD presentations

Original 5.1 and stereo audio options

Optional English subtitles

New interviews with director Emiliano Rocha Minter and actors Noé Hernández, María Evoli and Diego Gamaliel

New video appreciation by critic Virginie Sélavy

Original theatrical trailer

Reversible sleeve featuring original and newly commissioned artwork

First pressing only: Illustrated collector's booklet featuring new writing on the film by critic Anton Bitel, and a note from the producer on the film