Asian action film label Cine Asia makes a grand return with their first new release since 2012 in the shape of Call of Heroes, a martial arts epic set in the warlords era of China, in which a small village fights to defend itself against an overwhelming onslaught.
In 1914, after the collapse of China's Qing dynasty, Yang Kenan (Sean Lau – Mad Detective) is appointed as guardian to defend the rural village of Pucheng. When a lone man enters the village and takes innocents lives, Yang makes the decision that he must be sentenced to death. It emerges that this man is Cao Shaolun (Louis Koo – Flash Point), son of a sadistic warlord, and his army demands the son is released, threatening to bring death and destruction. The village soon becomes split between those who want to stand against the warlord, and those who want to set Cao free in a bid for peace. As the odds for peace lessen and the pressure mounts for Yang to release the murderous captive, a stirring tale of heroic resistance unfolds as he and a team of skilled villagers make a last stand against the warlord's vicious army. In the face of insurmountable odds, heroes will rise.
Directed by Benny Chan (New Police Story, Shaolin), and with action direction by the legendat Sammo Hung (Kung Fu Hustle, Ip Man, Once Upon a Time in China and America), Call for Heroes stars Sean Lau, Eddie Peng, Louis Koo and Wu Jing.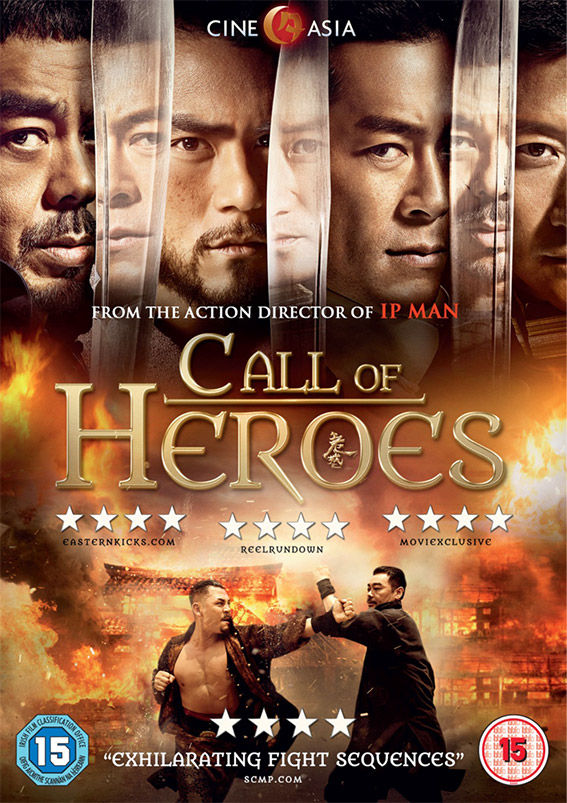 Call for Heroes will be released on UK Blu-ray, DVD and VOD on 2 January 2017 by Cine Asia at a yet to be confirmed RRP.
Blu-ray and DVD special features:
Making-of featurettes

4 x character trailers

International trailer

Artwork gallery