Arrow Films has announced that its award-winning documentary Magnus, about young chess superstar Magnus Carlsen, will be released on UK Digital, VoD, DVD and Blu-ray on 12 December 2016.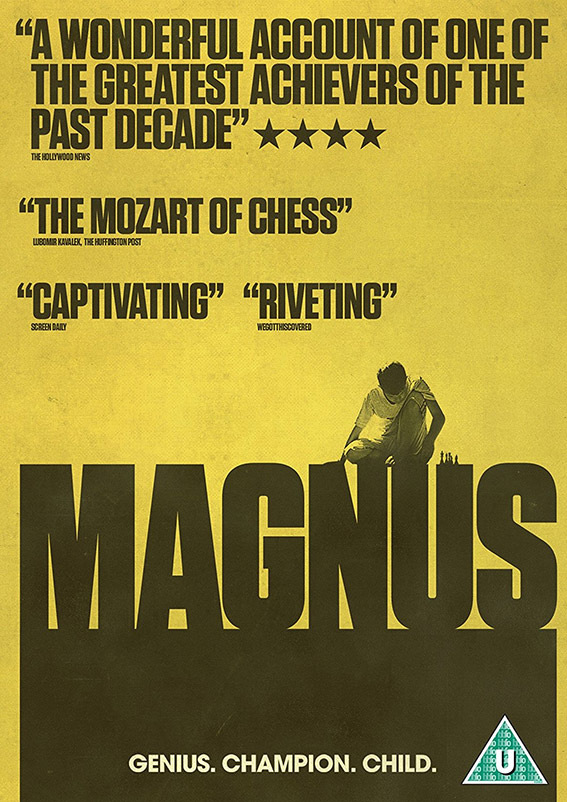 Mgnus, directed by Benjamin Ree and produced by Sigurd Mikal Karoliussen, won Best Film at the Norwegian International Film Festival 2016 and was nominated for Best Documentary at the Moscow International Film Festival. With Magnus soon to defend his World Chess Championship title in November 2016, this thrilling documentary charts the path to glory for this unique prodigy.
As a young boy Magnus Carlsen was very different from his peers. He usually sat by himself, lost in thought, and his parents, Henrik and Sigrun, were concerned about his relative development. When a strong interest in numbers made them realize that he could become a good chess player, they introduced him to the game at the tender age of 5. He soon started climbing the ranks of the chess world.
At 13 he became the youngest grandmaster in the world, and began to wonder just how far he could go. Magnus is the incredible story of a boy, who went from being bullied by his classmates to become the World Chess Champion. For a decade the filmmakers have captured the decisive moments of Magnus Carlsen's life, one of the world's most intelligent people, and achieved over 500 hours of footage.
In 2004, when Magnus was 13 years old he made a decision: He would become the World Chess Champion. The coming of age story unfolds as we follow the prodigy battling his way through the ranks of chess, with personal sacrifices, special friendships and a caring family.
Director of Magnus, Benjamin Ree said:
"Chess is regarded as the touchstone of intellect, the ultimate battle of the minds. During the last 15 years Magnus Carlsen has become the highest ranked player of all time. I found it immensely fascinating that no one I talked to understood how Magnus Carlsen had become so good – not even himself! He has studied the game in a completely different way than all the greatest chess players in history. He has been driven by playfulness and curiosity, rather than discipline and structure. I wanted to understand how Magnus' brain works and find out who he really is on a deeper human level."
Tom Stewart, Head of Acquisitions at Arrow Films said:
"We are thrilled to be bringing this extraordinary documentary to UK audiences and to enlighten cinema goers to the remarkable otherworldly talents of Magnus Carlsen and the story behind his unlikely dominance of the game. The film plays out like a great man versus machine, underdog story, and will delight both fans of the game and those who've hardly been near a chess board."