First there was Kidulthood, then Adulthood, and finally Brotherhood. Soon you can relive the acclaimed and powerful Hood trilogy on DVD in a three-film box set on 26 December 2016 from Lionsgate UK at a yet to be confirmed RRP.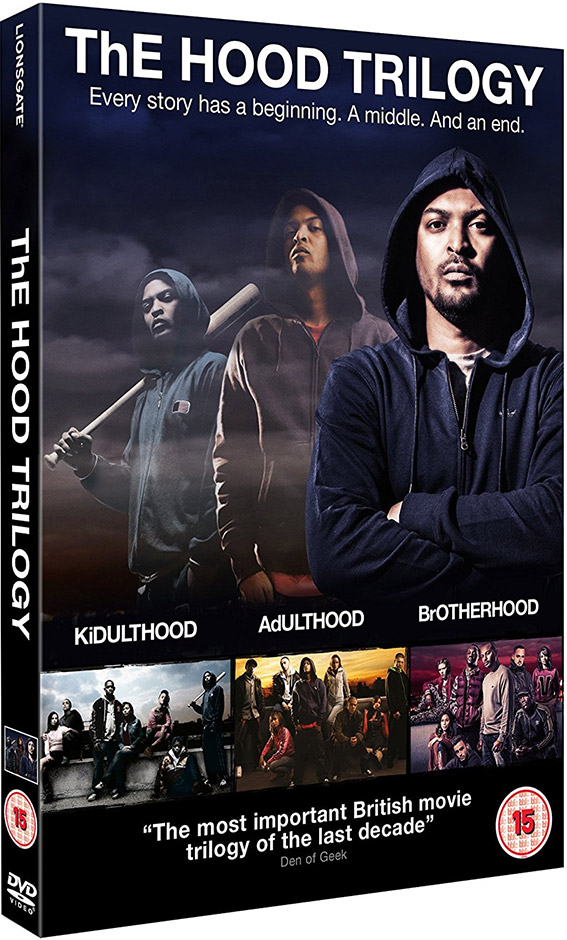 Featuring break-out performances from the likes of Jaime Winstone and Arnold Oceng, and three of the more cutting-edge soundtracks of recent years. The Hood Trilogy features three iconic coming-of-age films created by and starring BAFTA award winning actor, writer and director Noel Clarke.
Kidulthood follows Sam (Noel Clarke) and Trife (Aml Ameen), two 15-years-olds growing up in urban West London. Over two days, the pair some across various challenges, ending in trouble that was seemingly imminent from the start. Adulthood sees Sam released from jail and realising that life is no easier on the outside than it was on the inside and forced to confront the people he hurt most. Brotherhood follows Sam as he faces up to the new world and realises it comes with new problems and challenges. Sam know that to survive he must face his issues head on, and knows he will require old friends to help him survive new dangers.
The Hood Trilogy showcases a supporting cast of young acting and musical talent, including Jason Maza, Nicholas Hoult, Plan B and Stormzy. The films' soundtracks include tracks from The Streets, Dizzee Rascal, Wiley, Chipmunk, Lethal Bizzie, Plan B, Stormzy and Krept & Konan.
Special features:
Kidulthood
Adulthood
In-Vision commentary with actor-writer-director Noel Clarke and the cast

Audio commentary with Noel Clarke
Brotherhood
Making Brotherhood featurette
Kidulthod trailer:
Adulthood trailer:
Brotherhood trailer: