Following its official selection to play as part of this year's Cannes Classics strand,Studiocanal has announced that a newly restored version of the multi-award winning French drama, Indochine, will be released on DVD, BD and EST on 2 January 2017. This marks the first time that the film which, on its original release, won five César Awards, an Oscar and a Golden Globe (both for Best Foreign Film), will be available to own in its fully restored version. The DVD will retail at £17.99, the Blu-ray at £22.99.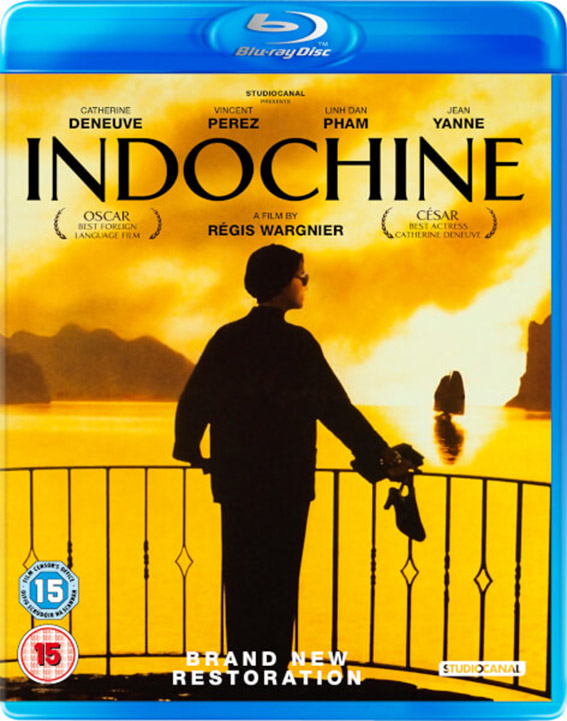 Indochina: 1930. Alongside her father Emile, Eliane Devries determinedly runs a rubber plantation. The only emotional attachment she has is to her adopted daughter Camille, an orphaned Annamite princess. Their existence is turned upside down upon meeting Jean-Baptiste, a young French naval officer with whom both Eliane and then Camille fall in love. Protected by her friend Guy Asselin, the head of the French security services, Eliane is able to face another worrying element: the rise of native nationalism and the first attacks mounted against the French. Although Eliane becomes detached from Jean-Baptiste, Camille still loves him despite her arranged marriage to her cousin Tanh. She flees the colonists and crosses the whole country, heading north, witnessing the misfortunes of her people under colonial oppression, and finally reaches Dragon Islet in Hạ Long Bay where Jean-Baptiste has been transferred. What will be the lovers' fate?
Featuring an Oscar-nominated performance from Catherine Deneuve (The Umbrellas of Cherbourg, Dancer in the Dark, Belle de Jour) alongside Vincent Perez (Cyrano de Bergerac, The Crow: City of Angels), Jean Yanne (We Won't Grow Old Together, Weekend) and Linh Dan Pham (Mr. Nobody, The Beat that My Heart Skipped), Indochine is set in 1930 at the tail end of French colonial rule in Indochina and tells the story of a widowed French woman (Deneuve) who raises a Vietnamese princess (Linh Dan Pham) as if she was her own daughter. Directed by Régis Wargnier (East/West, Une femme française), the film's original negative, under Studiocanal's supervision, has been digitised and restored, frame-by-frame, to 4K quality by L'Immagine Ritrovata.
Special features:
Indochine: A French epic (Indochine-Une épopée rançaise): A brand new 52 minute documentary about the film, the historical context as well as interviews from Deneuve, Wargnier, Erik Orsenna, Louis Gardel, Vincent Pérez, Michel Bodin, Alain Ruscio, François Catonné, Alain Belmondo Gérard Crosnier and Jacques Bufnoir.
In addition to the Blu-ray and DVD release, the film will be screened at the Ciné Lumière on the following dates: 18 December / 4 January / 5 January / 7 January / 8 January / 11 January / 12 January.