Eureka Entertainment have announced the release of La Bamba, the All-American rock to riches story of rock 'n' roll legend Ritchie Valens starring Lou Diamond Phillips, on Blu-ray for the first time in the UK in a 30th Anniversary Digitally Restored Dual Format (Blu-ray & DVD) edition on 9 January 2017 at the RRP of £17.99.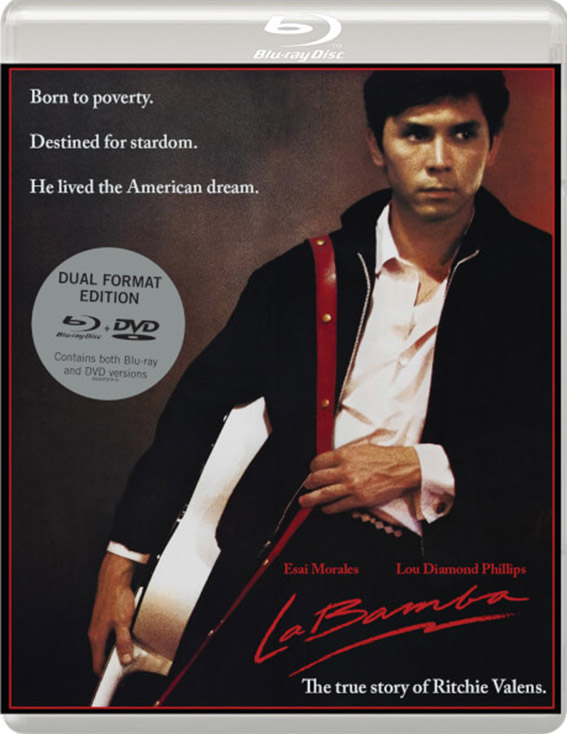 The life of rock & roll legend Ritchie Valens bursts across the screen in the highly celebrated music-filled biopic La Bamba, starring Lou Diamond Phillips (Young Guns, Che) as the teenage sensation whose rise to fame was tragically cut short at the age of 17.
Phillips gives an electrifying performance as Valens, who has to contend with racial prejudice, a jealous brother (a stunningly intense Esai Morales – NYPD Blue, Caprica) and an overbearing mother, before his unique style of Latino-influenced rock & roll rockets him to fame, but sets him on the path for an unavoidable date with destiny.
Featuring music from Grammy Award winning rock band Los Lobos, and also starring Elizabeth Peña (Jacob's Ladder, Down and Out in Beverly Hills), director Luis Valdez's La Bamba is an irresistibly toe-tapping depiction of the early days of American rock music, and the indelible influence one young man had upon it.
30th Anniversary Edition features:
High-definition presentation

English subtitles for the deaf and hard-of-hearing

Remembering Ritchie – a featurette on the late musician

La Bamba music video by Los Lobos

Lonely Teardrops music video by Howard Huntsberry

Original theatrical trailer