Tetsuo (Kiyohiko Shibukawa) is a lowlife. A film director with a small indie hit many years back, yet he has never gotten any further as he refuses to go against his 'artistic integrity'. He gets by exploiting his friend Mamoru (Yoshihiko Hosoda) & the students of his actors' school. One day two new students come to his school: Minami (Maya Okano), a naive and fresh girl from the countryside who wants to be an actress and Ken (Shugo Oshinari), a scriptwriter.
Tetsuo thinks Minami could be a real star and Ken has a brilliant script which could relaunch his career as a director, with Minami his muse. With the help of Kida (Denden), an unsavory film producer, they strive to turn this project into something tangible, but Minami's ability starts to turn the heads of other film directors such as Kano (Kanji Furutachi) and Shinjo (Kanji Tsuda), and soon Tetsuo's world stars to unravel.
The 39 year-old struggling lowlife film director is played by Kiyohiko Shibukawa, AKA "the unique actor loved by directors", who is constantly cast by directors such as Takashi Miike, Gakuryu Ishii and Toshiaki Toyoda. His colleague, a lowlife producer is played by Denden, a regular cast member of Sion Sono's films. The other cast includes the in-demand talents of Houka Kinoshita and Kanji Tsuda, also Chika Uchida, Shugo Oshinari, Yoshihiko Hosoda and Kanji Furutachi who show off their distinctive styles as well as introducing a 'new face' of Japanese indie cinema, Maya Okano, who plays the heroine.
Lowlife Love [Gesu no ai] is produced by Adam Torel (The Land of Hope, Fukuchan of Fukufuku Flats), and directed by Eiji Uchida. Uchida's last film Greatful Dead was screened in 30 countries worldwide and received critical acclaim at many popular film festivals including the Yubari International Fantastic Film Festival, Brussels International Fantastic Film Festival, Fantastic Fest and more.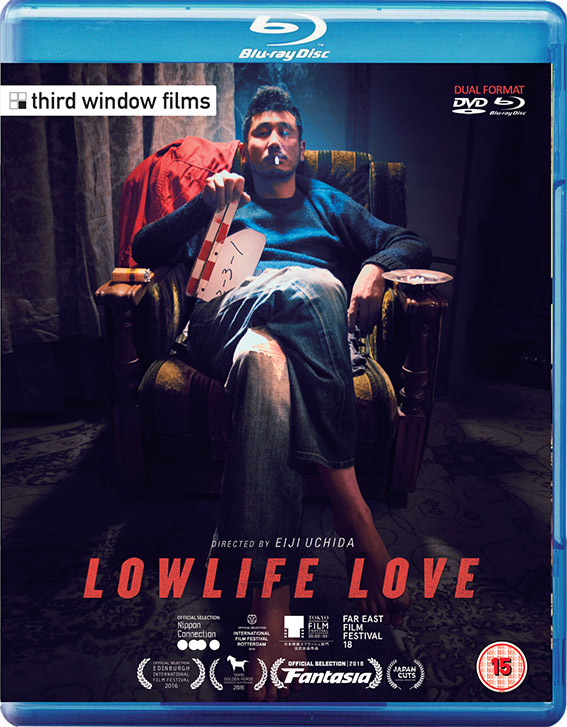 The first 100% Third Window Films production, Lowlife Love some to UK Dual Format (Blu-ray and DVD) on 21st November 2016 at the RRP of £19,.99 for the Dual Format Edition, probably a little less for the DVD, but we've yet to confirm this.
Special features:
Making-of featurette

Cast interviews

Deleted scenes

Alternate ending

Music video

Theatrical trailer