Studiocanal has announced that a newly restored version of Gérard Oury's 1966 WW2 comedy, La grande vadrouille, will be released on DVD, BD and EST on 7th November 2016 to mark the 50th anniversary of one of the most popular French films in history.
The 4K restoration will receive its UK premiere at The French Film Festival in Edinburgh at the Filmhouse on 4th November, followed by screenings at Ciné Lumière, London, on 6th and 9th November, Chichester Cnema at New Park on 17th and 18th November, plus more to be confirmed.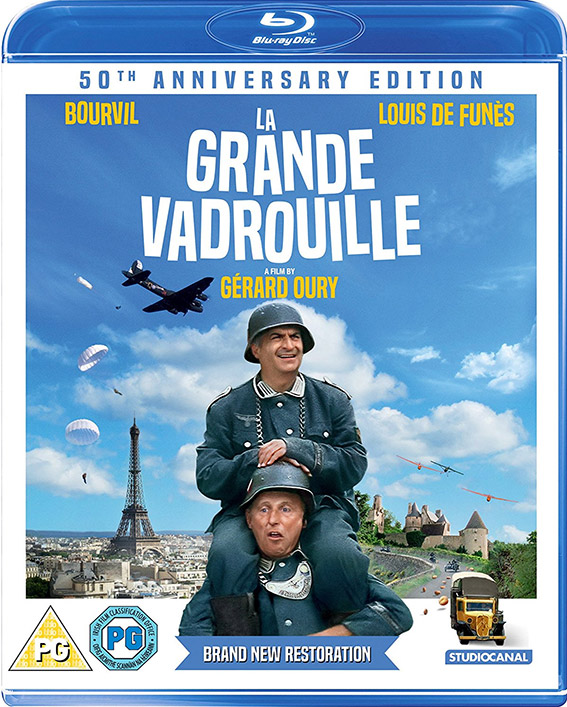 Written by Gérard Oury with his daughter Danièle Thompson, La grande vadrouille is one of the great comic achievements of French cinema that, on its release in 1966, was seen by 17 million people in France, a box-office record which it held until the release of Titanic. This massive popularity has shown little sign of waning in the intervening years – the recent French theatrical re-release boasted more than 38,000 admissions. Danièle Thompson has since gone on to be a successful director in her own right, her newest film Cezanne et moi also premieres at the French Film Festival in a double bill with La grande vadrouille.
La grande vadrouille pairs Bourvil and Louis de Funès, at the time France's most popular performers, with British comic legend Terry-Thomas. Set during WW2, the film centres on three English airmen, including Sir Reginald (Terry-Thomas – I'm Alright Jack, School For Scoundrels) who parachute into Occupied France when the Germans shoot down their aircraft. One lands on the scaffold of amiable painter Augustin (Bourvil – Le Cercle Rouge). Another lands on top of a concert hall and is rescued by the irascible conductor Stanislas Lefort (Louis De Funès – Les grandes vacances). The third ends up in the otter enclosure in a Parisian Zoo. When they try and help the airmen make a rendez-vous, Augustin and Stanislas find themselves a target for the Germans. Assisted by an anti-German nun and a puppeteer's daughter, the two unlikely heroes accompany the airmen on a dangerous trek across France towards the neutral zone.
The three central actors revel in the madcap scenes they are thrown into, and the sparkling one-liners are matched with a fast-paced plot and breath-taking action scenes. La grande vadrouille remains a magnificent action-comedy and a lavish recreation of the wartime era.
No details of any extra features have been confirmed yet, nor has the RRP, although we're suspecting £24.99.