Eureka Entertainment have announced the UK release director Anthony Mann's The Man From Laramie, one of the most powerful westerns of the 1950s starring James Stewart, on Blu-ray for the first time in the UK in a Dual Format (Blu-ray & DVD) edition in December.
Held by many to be the pinnacle of the five Westerns they were teamed on, The Man from Laramie marked the final collaboration between director Anthony Mann and star James Stewart. Stewart stars as a resolute vigilante, obsessed with finding the man responsible for his brother's death. Among the suspects are an arrogant cattle baron (Donald Crisp), his sadistic son (Alex Nicol) and his ranch foreman (Arthur Kennedy).
A psychological revenge saga of Shakespearean proportions, and masterfully filmed in Cinemascope and Technicolor, The Man from Laramie is one of the most powerful dramas of the 1950s.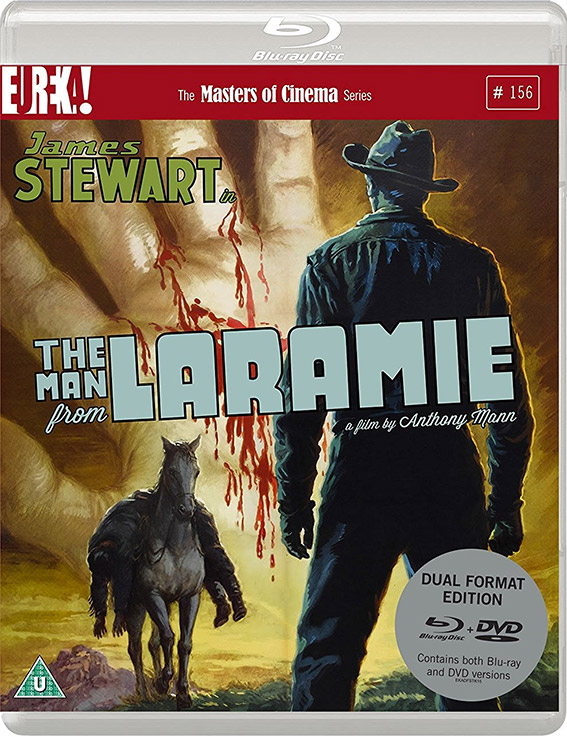 The Man From Laramie will be released on UK Dual Format (Blu-ray and DVD) on 5th December 2016 by Eureka Entertainment as part of the Masters of Cinema series at a yet to be confirmed RRP.
Dual Format features:
New restored 4K film transfer, presented on both Blu-ray and DVD

Restored 2.0 and 5.1 soundtracks, presented in uncompressed PCM and DTS-HD MA respectively on the Blu-ray

English subtitles for the deaf and hard-of-hearing

New audio commentary by film critic Adrian Martin

New video interview with critic and novelist Kim Newman

Original theatrical trailer

New booklet featuring a new essay by Philip Kemp, an interview with Anthony Mann, and rare archival imagery