One Million Years B.C. is the spectacular prehistoric adventure that gave the world the most iconic bikini shot of all time, and made a star of fur-clad Raquel Welch. An epic tale of man's battle for survival at the dawn of civilisation, rival tribes the Rock People and the Shell People battle not only the gigantic prehistoric monsters and each other, but the earth itself, still heaving, bubbling and boiling in its volcanic state.
Billed as the 100th production from the legendary Hammer production house, the highlight of the film was without doubt the stop-motion dinosaur animation by legendary special effects animator Ray Harryhausen. The result was Hammer's biggest commercial success, and the big screen's most famous dinosaur epic right up until the release of Jurassic Park 26 years later.
This 50th Anniversary special 4k restoration includes new special features, including interviews with the film's stars Raquel Welch and Martine Beswick (the two-time Bond girl), and original artwork by Ray Harryhausen, including never-before-seen storyboards exclusively given to Studiocanal by the Ray & Diana Harryhausen Foundation.
The Ray & Diana Harryhausen Foundation is a charitable Trust set up by Ray on the 10th April 1986. It is the primary aim of the Foundation to protect Ray's name and body of work as well as archiving, preserving and restoring Ray's extensive collection, which is estimated as holding in excess of 50,000 items. From this archive, the Foundation has provided unique imagery of Ray's mixed-media storyboards, key drawings and creature designs for One Million Years B.C., as well as photography of original latex models from the film as they survive into the 21st century. Most excitingly, this release will reveal fully for the first time detailed notes and storyboard for an unfilmed Brontosaurus sequence, which was originally planned as the film's dramatic climax. Find out more at http://www.rayharryhausen.com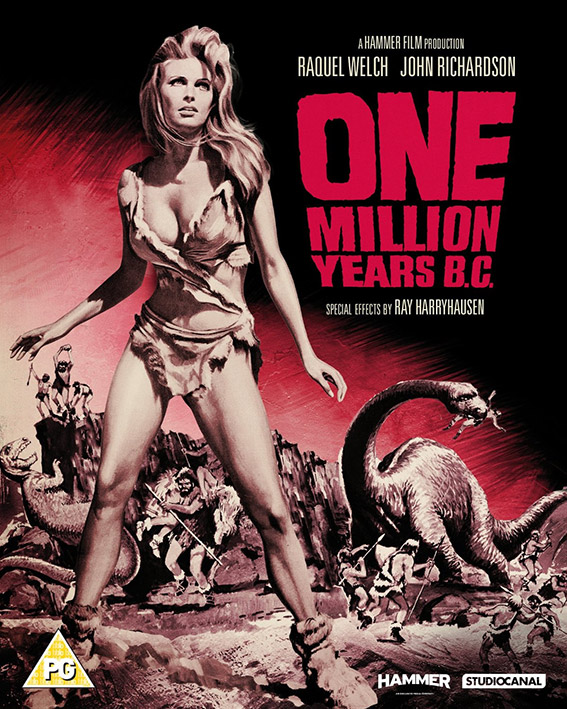 One Million Years B.C. will be released as a UK Double Play Edition (that's Studiocanal's version of a Dual Format release, with Blu-ray and DVD editions of the film) on 24th October 2016 by Studiocanal at the RRP of £24.99.
Special features:
New interview with Raquel Welch

New interview with Martine Beswick

Exclusive Ray Harryhausen stills, storyboard and artwork

Production stills gallery