It was John Carpenter's 1976 breakthrough feature (at least in the UK, where it was a huge hit at the London Film Festival), Assault on Precinct 13 remains one of our very favourite Carpenter films (as well as being the very first American DVD our editor purchased). Now Second Sight have announced the November release of a Limited Edition 40th Anniversary Blu-ray box set, featuring a newly restored 1080p transfer of the film and a host of extra features.
On a fateful night in Los Angeles, three previously unconnected stories collide. Newly promoted Lieutenant Ethan Bishop's first assignment is to babysit a run-down police station that is in the process of being relocated. Multiple murderer Napoleon Wilson is being transported to Death Row with two other prisoners when one of them is taken ill. A young girl is gunned down by a multi-racial street gang known as Street Thunder, one of whom is killed by the girl's distraught father. When the bus pulls into the station to use their holding cells, the now terrified and uncommunicative father of the murdered girl runs into the building, and the occupants come under siege from a growing army of heavily armed Street Thunder gang members.
A partial remake of both Rio Bravo and Night of the Living Dead, Assault on Precent 13 is a brilliant urban western, as smart as it is entertaining and the stuff that truly great cult movies are made of. Got a smoke?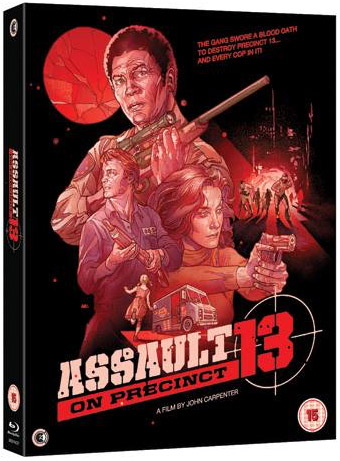 Assault on Precinct 13 will be released in the UK on DVD and 40th Anniversary Limited Edition Blu-ray on 28th November 2016 by Second Sight at the RRP of £24.99 for the Blu-ray Limited Edition and £15.99 for the DVD. The film will also be available to own on Digital Download on 21st November and On-Demand from 28th November.
40th Anniversary contents:
Newly restored 1080p transfer with DTS-HD Master Audio and Uncompressed PCM original mono audio options on the Blu-ray, Dolby Digital Surround 5.1 and original mono audio options on the DVD

English subtitles for the hard of hearing

Return to Precinct 13: A new interview with actor Austin Stoker

Producing Precinct 13: A new interview with executive producer Joseph Kaufman

Filmmaking with John: A new interview with art director and sound effects designer Tommy Lee Wallace

Captain Voyeur: John Carpenter student short (Blu-ray exclusive)

Do You Remember Laurie Zimmer? documentary film (Blu-ray exclusive)

5 Art Cards (Limited Edition box set exclusive)

Interview with John Carpenter and Austin Stoker

The Sassy One with Nancy Loomis

Audio Commentary with John Carpenter

Audio Commentary with Tommy Lee Wallace

Trailer

Radio spots

Bonus CD soundtrack disc exclusive to box set (Limited Edition box set exclusive)